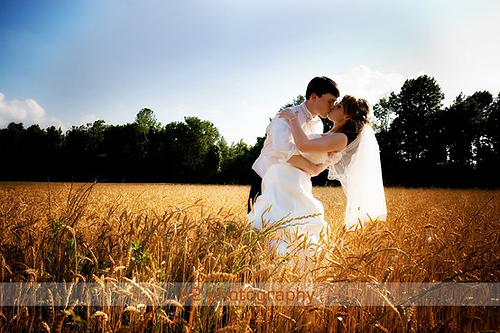 Wheat and honey are two elements that were practically born to go together, both in a colour scheme and edible sense. With white as your base colour, this sets a tranquil yet warm ambience which makes it ideal for a late autumn wedding. What's more, as both elements are 100% natural, wheat and honey provides the ideal platform for an eco-friendly affair. But first, some sweet ideas to get you thinking.
All things Wheat and Wonderful
Use wheat ears in the floral arrangements and boutonnières, and instead of carrying a bouquet of flowers, opt for a wheat sheaf or a combination of wheat ears and cream-coloured flowers.
If possible, arrange to have your wedding pictures taken in the middle of a wheat or savannah field close to sunset.
Have guests toss handfuls of wheat instead of confetti – not only is it in tune with the theme, it's eco-friendly and most venues will love it.
Use plenty of tan raffia and burlap to echo the organic feel and texture of wheat – check out the post we recently did on burlap for inspiration.
Bee my Honey…
Serve honey and cheese platters with a variety of wheaty breads and crackers. Alternatively place a Winnie the Pooh style honey pot on each table, along with fruits and marshmallows to serve as a dessert "fondue".
Send each of your guests home with a small jar of honey as guest favour, along with a little wooden honey dipper stick.
Place bottles of honey mead and jars of homemade honeycomb on the various tables as edible decoration.
Incorporate the "honey dripping over the edge" effect into the design of your wedding cake – too lovely!
Set up a pamper station and appoint a beauty therapist to treat your guests to a honey and wheat hand or foot scrub during the cocktail hour.
And don't forget to pay extra special attention to the cherry on top of this sugary sweet theme – the honeymoon, of course!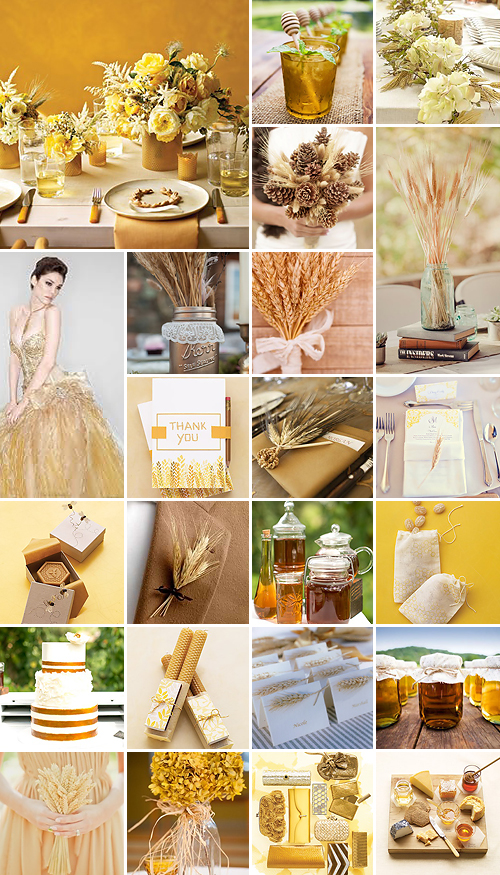 For more ideas on Wheat and Honey Weddings or to check out the original photos displayed above and their credits, make sure to check out our Wheat and Honey Weddings Pinterest Board!