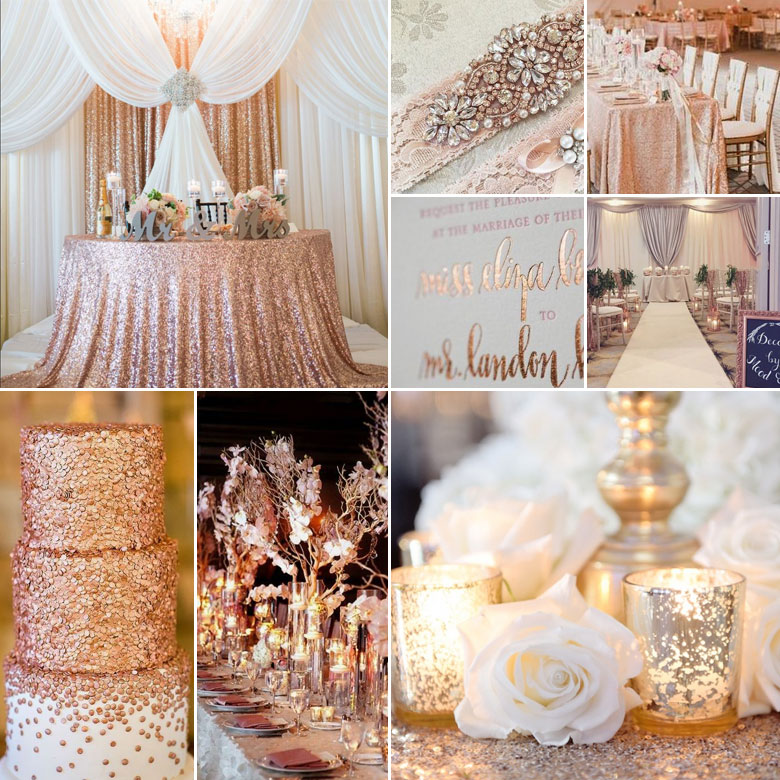 The rules say "choose a metal and stick with it" – but don't we always advocate breaking the rules on occasion? Well, when you see this striking and elegant colour scheme, you're bound to throw the rule book out the window, because rose gold, silver and white is certainly the epitome of contemporary style and elegance.
In order to pull off this colour scheme without creating visual chaos, it's important to identify your most dominant metallic colour. White will naturally form your base colour, and then it's up to you to layer up the metallic – making sure to use your more dominant colour in larger "doses".
To make life easier for yourself, start off by deciding how heavy-handed you're going to be with your metallic colours. For instance, you can stick to tiny rose gold and silver accents, or you can go all out and splash metallic colours all over the place. If you choose the latter, be bold and opt for rose gold sequined table cloths, opulent silverware and rose gold bridesmaid dresses, to name but a few.
The key to this colour scheme is to always keep elegance and sophistication top of mind – that's to say, quality first. Think beautiful striking glass and crystalware with delicate rose gold trims and detailing, or heavy antique silver elements like vases and place card holders.
Original images and their credits available on Pinterest