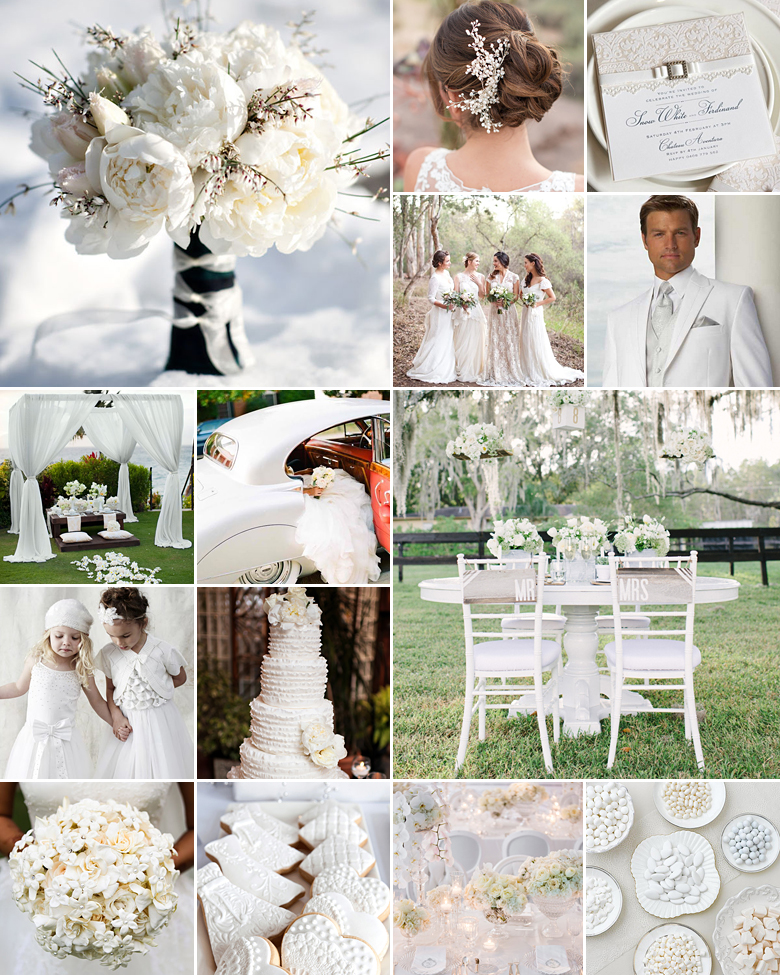 White signifies all things pure and pristine. What better way to express the union that you have made on your wedding day than by using this symbolic colour throughout your attire and décor? White as a colour scheme is simple and dreamy, but also very sophisticated and elegant. It compliments any setting; from a laid-back beach wedding to a formal dinner in a grand ballroom; icy winter romance or hot summer purity.
A white theme is enhanced by the use of glass, crystals and mirrors, which create texture and add complexity to this single-toned wedding. This can be done in the form of jewellery (be sure to don plenty of diamonds and silver bling), mirror under-plates, crystal chandeliers, and so on.
Other ideas include:
Dress your bridesmaids in simple white dresses that are knee-length. This will ensure that they are in line with the theme without competing with your gown in any way.
The following white flowers can be used for floral arrangements and the bridal bouquet: lilies, roses, anthuriums, Lily of the Valley, tulips, Gerber daisies, regular daisies (for a less formal do) and the Amaryllis.
White feathers scattered on the dance floor give your white wedding a truly fabulous fairytale appeal.
Use lots of textures (embossed fabrics and different textiles, such as velvet, satin and hemp) to give your theme depth.
Original images and their credits available on Pinterest