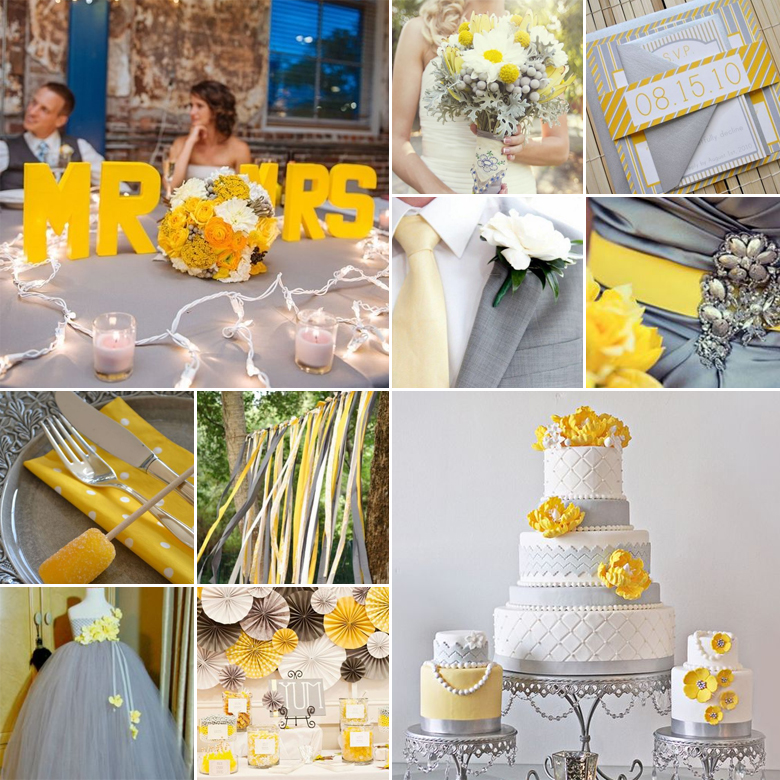 Style, grace and a pop of colour! That's what this colour scheme is all about. In fact, it's really just the right balance between all the things you love: Colour, bling and subdued elegance. Make sure you maintain this balance by blending your colours effortlessly in various areas of your wedding day:
Dress your bridesmaids in a combination of soft grey dresses and summery yellow.
Drape the guest tables in grey table linen, with yellow flowers and striking silver chandeliers.
Incorporate plenty of yellow into your dessert table with treats like macaroons and lemon meringue tartlets, and package it in grey boxes.
In terms of flowers, you have a broad selection at your disposal including yellow roses, daffodils and lilies, whereas certain foliage provides the perfect grey backdrop.
Mix yellow flower petals with silver sequins and glitter, and allow guests to scatter it as confetti.
Silvery sparklers are a must on departure!
Instead of a crisp white wedding dress, consider a light grey gown and complete the ensemble with yellow shoes and silver jewellery.
To keep the theme from getting stale, add touches of green for a little liveliness.
 Original images and their credits available on Pinterest