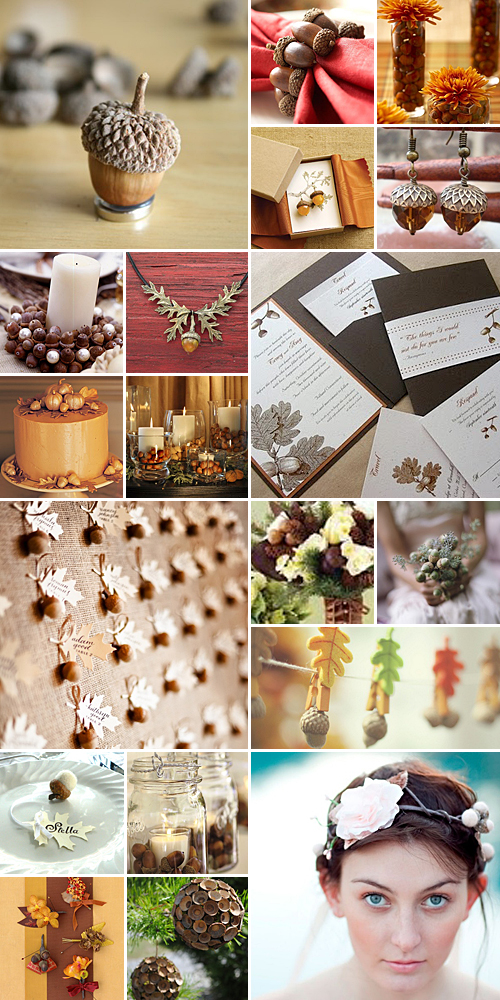 If you're nuts about nuts and think of yourself as somewhat nutty, then acorns deserve special mention on your big day. Whether you use them in all their natural splendour, or spray them in a colour of your choice, it's as if these organic gems were crafted with the budget-conscious bride in mind.
Scattered on the forest floor or across your neighbour's lawn, acorns are easy to come by and add a rustic charm to the flow of any event. Why not make a day of it, and head into Mother Nature's belly with a picnic basket to gather acorns for the big day? Once you've stuffed your pockets, here are some ideas of what to do with them:
Use acorns for the gents' boutonnieres and add a couple of oak branches to your bridal bouquet.
Attach each guest's place card to the stem of an acorn or adorn each napkin ring with one of these squirrelly pretties.
Create acorn candleholders by simply filling a glass vase or jar with acorns and planting the candle in the middle.
Decorate the wedding cake with acorns and draw the nuttiness through to the dessert table with treats like pecan nut pie and peanut clusters.
Carve your initials into the side of the acorn and put them to good use all around the venue – as decoration around the guest favour bags or scattered on the grass outside the venue.
To complement the acorn theme, incorporate oak leaves into your stationery and wedding décor – for instance, use dried leaves as confetti or scatter them on the tables.
The original images and their credits can be found on Pinterest.