Apples are probably considered one of the most commonplace fruits known to man, but when placed in the hands of a nifty bride, there's certainly nothing commonplace about it! This simple fruit can literally fit in with any theme and style of wedding, whether it be rustic, contemporary, vintage, quirky, formal or informal – and it's not only meant for munching and crunching…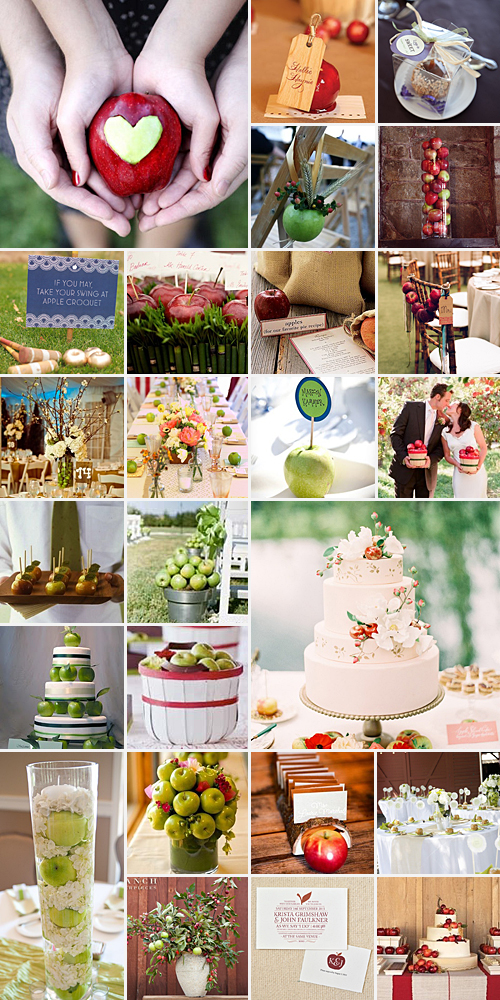 Turn the apples into candle holders by scooping out the top of the apple and place a tea light candle inside.
Add a dash of childhood whimsy to the occasion with toffee apples! Serve them for dessert or as cocktail snack.
Supply your guests with bow, arrows and apple targets for a little Robin Hood fun during pre-drinks.
Cute hand-drawn apples make for fun and quirky stationery designs and can be printed onto linens and bridesmaid dresses as well.
For a contemporary fairy tale touch, hang apples and branches from the ceiling of the wedding venue to create a modern forest effect.
Serve apple Martinis and apple juice boxes as a fun non-alcoholic alternative.
Apples are the ideal place card holders – simply make a slit in the top of the apple or use a toothpick to prop the card on the apple. Alternatively write each guest's name directly on the apple with a permanent marker.
For a fresh summery centre piece, fill a tall glass vase with water and apples.
Decorate our wedding cake with fresh apples and serve freshly baked apple pie with cream or ice cream for dessert.
Fill wooden pails with apples and line them up along the sides of the aisle – especially perfect if you're getting married in open air.
If you're hosting your wedding in apple country, head out to the orchards for a fun photo shoot of a fresh organic nature.
To stay true to the fresh and crisp nature of the apple, keep your elements relatively simple, organic and clean-cut.
For the more wedding apple ideas, the original photos above and their credits, please make sure to check out our Wedding Apples Pinterest Board!