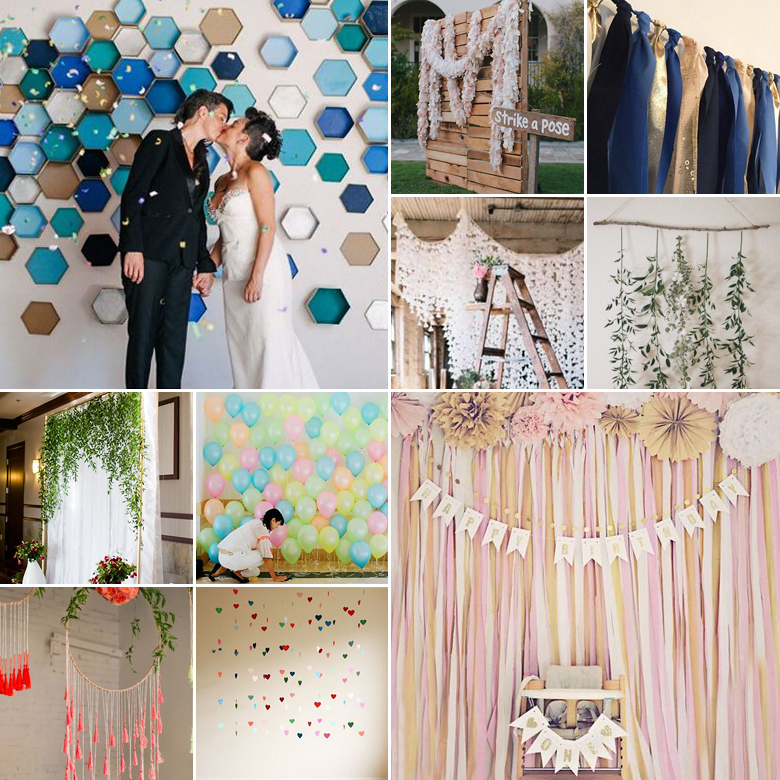 Set the scene for your wedding day with a DIY backdrop – whether it's florally, sparkly, simple or opulent. Backdrops can be used in numerous – for instance behind the main table, in the photo booth, and so forth.
Here are some ideas to get you going:
Soft waterfalls of fabric add a whole new dimension of romance to the wedding day.
Light up the backwall with strings of hanging fairy lights.
Cover the wall in ribbon! We're talking metres and metres of long ribbon spilling down onto the floor.
Using fishing line and paper shapes or origami birds, string it all together and suspend the strings from various heights.
Bring some leafy organice prettiness to the occasion with a foliage backdrop – for instance, vines hanging down from a wooden rod.
Cover an entire wall with balloons! This sill certainly be entertaining late night when they start popping by accident.
Glam it up with glittery streamers! Nothing says "bedazzling party" quite like a wall of sequins.
Create a striking flower wall by tying single stemmed flowers to long lengths of twine, and hanging that from the wall at intervals.
Make it extra personal – have your favourite couple photo enlarged and used as backdrop for the wedding table.
Original images and their credits available on Pinterest