Birdcages became very popular props when the vintage trend hit the wedding scene. Whether they are old-world and ornate or modern with an Eastern twist, you can actually create an entire wedding theme around the beauty of the birdcage. This is different, pretty and really innovative.
Fascinators with birdcage netting over the face are stunning replacements for traditional veils. They are also in line with the birdcage theme. They can be every bit as formal as a veil for those brides that prefer something different.
In terms of your décor, there are a number of opportunities to use birdcages throughout your ceremony and reception venues. Centrepieces present loads of fabulous options for the use of birdcages. Fill them with flowers or put a solitary candle in a dramatic cage so that the simplicity of its beauty is emphasised.
Here are some more ideas for your birdcage wedding:
Choose a wedding cake in plain white with textured sugar birdcage bars, and delicate painted birds 'inside'.
Hang the cages up in the trees outside, perhaps including little finches for their gorgeous colours and sweet chirps or colourful features for an ethereal look.
String fairy lights through and among a group of cages.
Opt for a small wedding cake and present it inside the cage.
Carry pretty birdcages down aisle, perhaps with white doves or finches inside. Remember that including animals in your wedding implies a definite responsibility on your behalf to care for the animals and cause no trauma to them.
Place a birdcage on the gift table for envelopes of money or gift vouchers.
View the images below for more beautiful inspiration.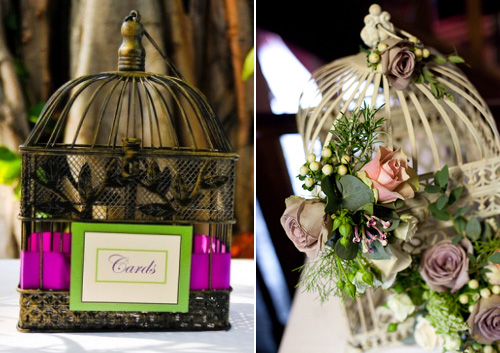 Whimsical Wonderland Weddings | Pizzazzerie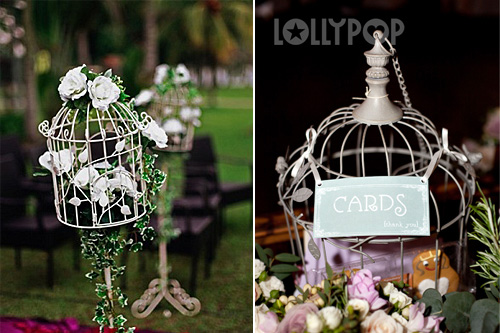 Whimsical Wonderland Weddings | Wedding Bureau