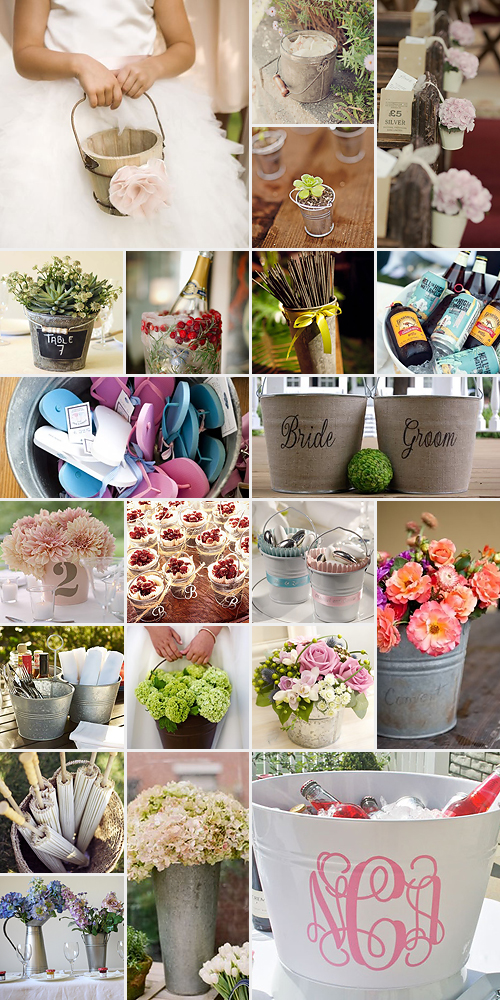 Wooden pails, enamel buckets, milk pails, metal buckets – the list goes on and on! And then we haven't even gone into the many shapes and sizes. Buckets are one of those versatile elements that are just as easy on the eye as they are on the pocket. Even better – as if they're not versatile enough, buckets can be painted, white washed or semi stripped to fit your theme to the T.
There's no denying that "rustic" and "bucket" goes together like jam and toast, so whether you're going for a rustic barn wedding theme or a fancy picnic – buckets aplenty there must be! But enough chitter and more ideas…
Swap the traditional vases for cute little buckets of wild flowers. These can be placed on the tables as well as in and around the venue.
Opt for interesting buckets instead of the usual expected ice bucket and fill it with ice and berries for colours.
Fill a variety of mini buckets with treats and goodies, and create a lavish display on the candy table. Alternatively, give each guest a mini metal bucket which they can fill up at the candy buffet.
In fact, mini buckets make for excellent guest favours! Plant a mini cactus inside or fill it with mixed nuts, biscuits or after dinner mints.
Chuck the old basket and have your flower girl strut her stuff down the aisle, bucket in hand.
Suspend buckets from shepherd hooks down the length of the aisle and fill it with flowers or confetti.
Fill a large bucket with ice and a number of vintage style cold drinks and ice lollies.
Use buckets as table plan! Simply paint your table numbers on respective buckets and place guest favours or flowers in each of the numbered buckets, with guest names attached to it.
Original images and their credits available on Pinterest