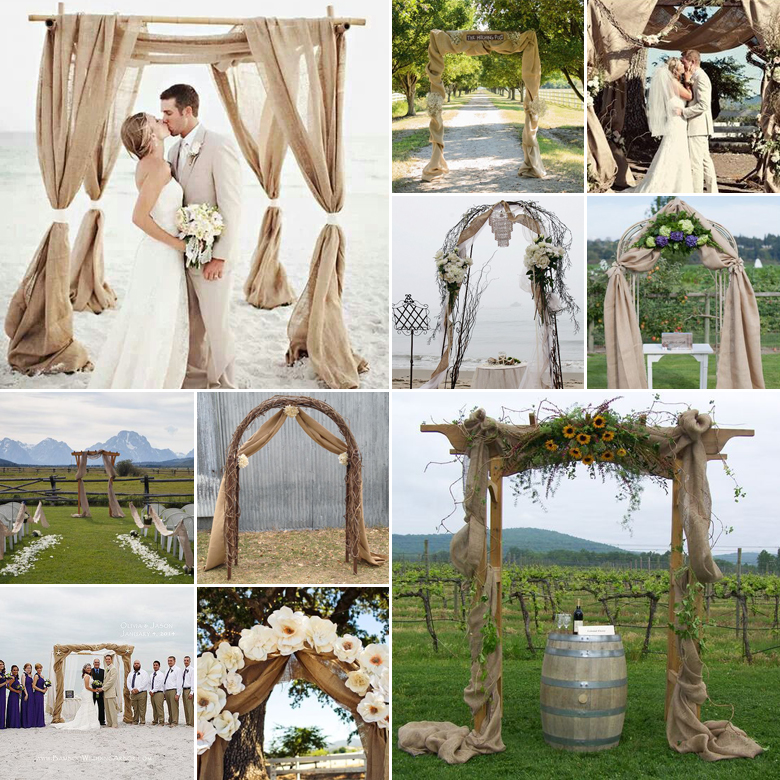 We've discussed burlap in many a post, but there's something oh-so enchanting about a burlap wedding arch, that it deserves a post all to itself. Draped across a wrought iron or wooden structure, burlap makes for a stunning rustic chic and autumnal focus piece under which to tie the knot in style.
Because it's so easy to make yourself, burlap arches are easy on the pocket. All you really need is a structure of sorts – even the branches of a tree will do – and a long length of burlap. Once the ceremony is over, the arch can be moved over to the reception venue where it can serve as an arch over the main entrance or frame in the photo booth.
To really make the burlap arch come to its full right, decorate it with any of the following additional elements:
Flowers – a delightful sprinkling of flowers around the edges makes for a lovely springtime wedding arch with just the right amount of rustic elegance to it.
Lace – whether you do lace tie backs or full lace draping down the sides, this delicate fabric adds a slightly more vintage and romantic touch to your arch.
Crystals and glass beads – especially ideal for an outdoor wedding, crystals will catch the sunlight, turning your humble burlap arch into something of a magical installation.
Twigs and autumn leaves – to further enhance the rustic nature of the burlap, Mother Nature's autumn gifts add just the right amount of charm and colour.
Original images and their credits available on Pinterest