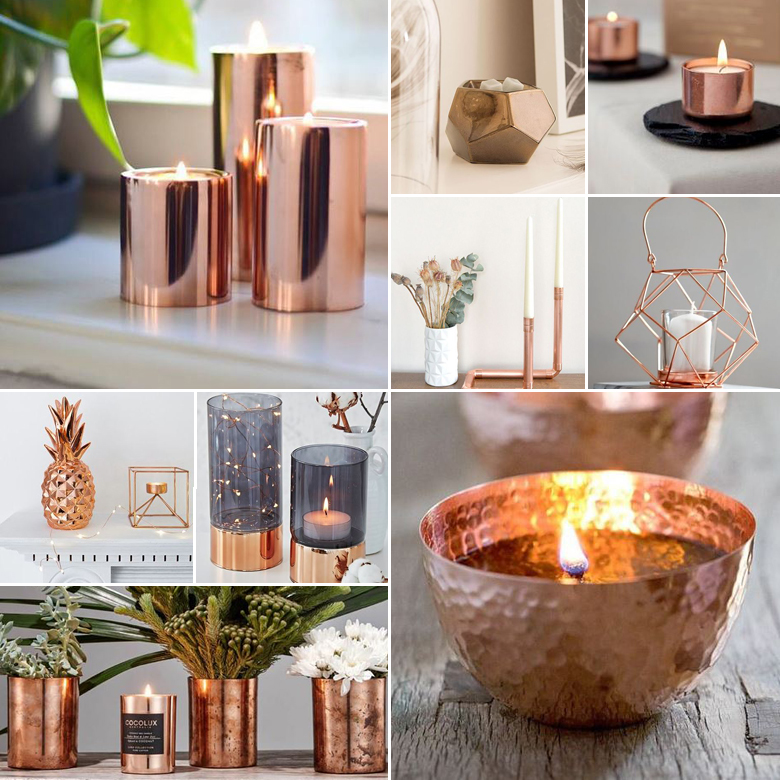 Who doesn't like a good bit of sparkle? Copper has become the new black (well, not literally, but we've committed to this analogy, so let's run with it), and wedding and décor planners are smitten with it. We're especially gagga over copper candles, where the dancing flames bring the copper tints to life.
Copper candles are simply magical in their own right, and are available in all shapes and sizes. You can even combine it with other metallic candles like rose gold and silver to add more dimension to the overall look.
If copper candles don't particularly WOW you, then copper candle holders might be more up your alley. From vintage style flat candle holders and medieval candelabra, to copper-spattered votive candle glasses – the options are virtually endless.
If you're a savvy DIY artist, then why not consider making your own copper candle holders? We're especially taken with industrial style candelabra made from copper pipes (which you'll find all over Pinterest). Another more cost-effective option is to use copper spray paint to coat recycled glass jars and metal tins, before popping little candles inside.
Nowadays you'll be able to find copper candles and candle holders at most décor hiring companies, and even interior décor shops.
Original images and their credits available on Pinterest