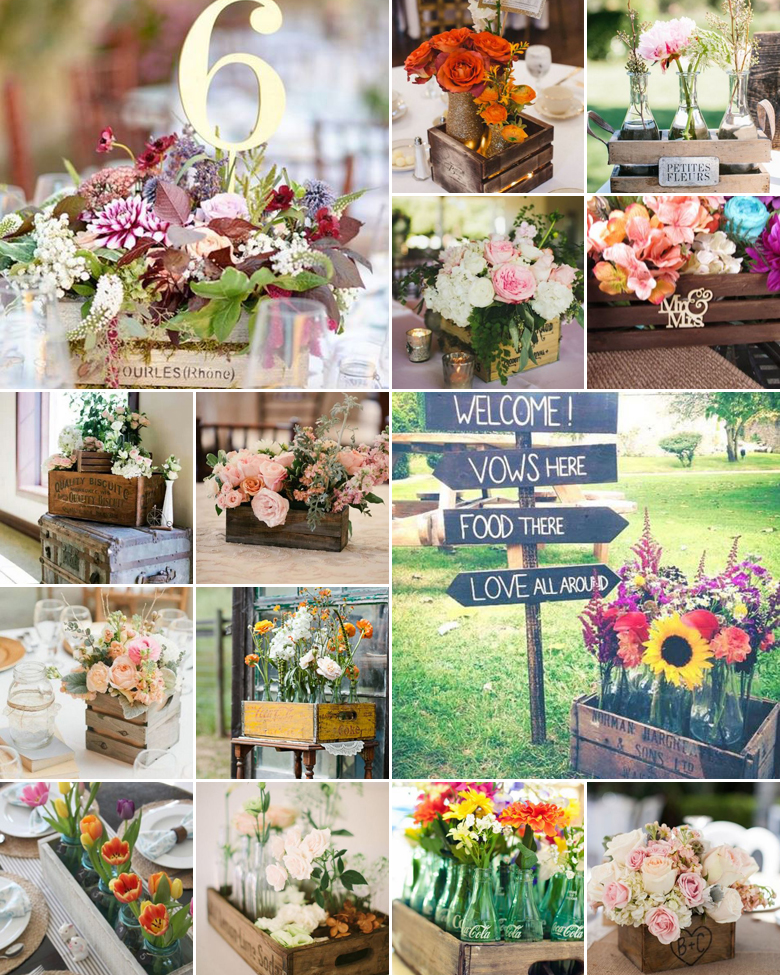 The flowers make the wedding! While traditional vases are beautiful, striking and elegant, using crates as vases will give your special day a comfortable, natural and homey feel.
For starters, you can use different sized crates throughout your wedding – either stacked on top of each other to give it or just scattered around tables and on the floor.
You can put glass jars in the crates containing flowers, where the jars are visible or just as a solution to arrange the flowers in a specific way.
If the planks of which the crates are constructed have spaces in between the panels ("peepholes"), why not add a string of fairy lights with the flowers for an illuminated display.
Consider varnishing or painting the crates – or give it a worn-in look by sanding it ever so slightly.
If you're the DYI type, make your own crates with planks, clue and a staple gun.
Paint words on the sides of the crates, or glue small symbols onto it. Alternatively decorate it with ribbon, raffia, organza or hessian.
Create an elevated display by stacking three crates in an untidy fashion with flowers spilling out of each.
If you're quite daring, hang the crates from the ceiling at different angles, with flowers overflowing onto the tables.
Original images and their credits available on Pinterest