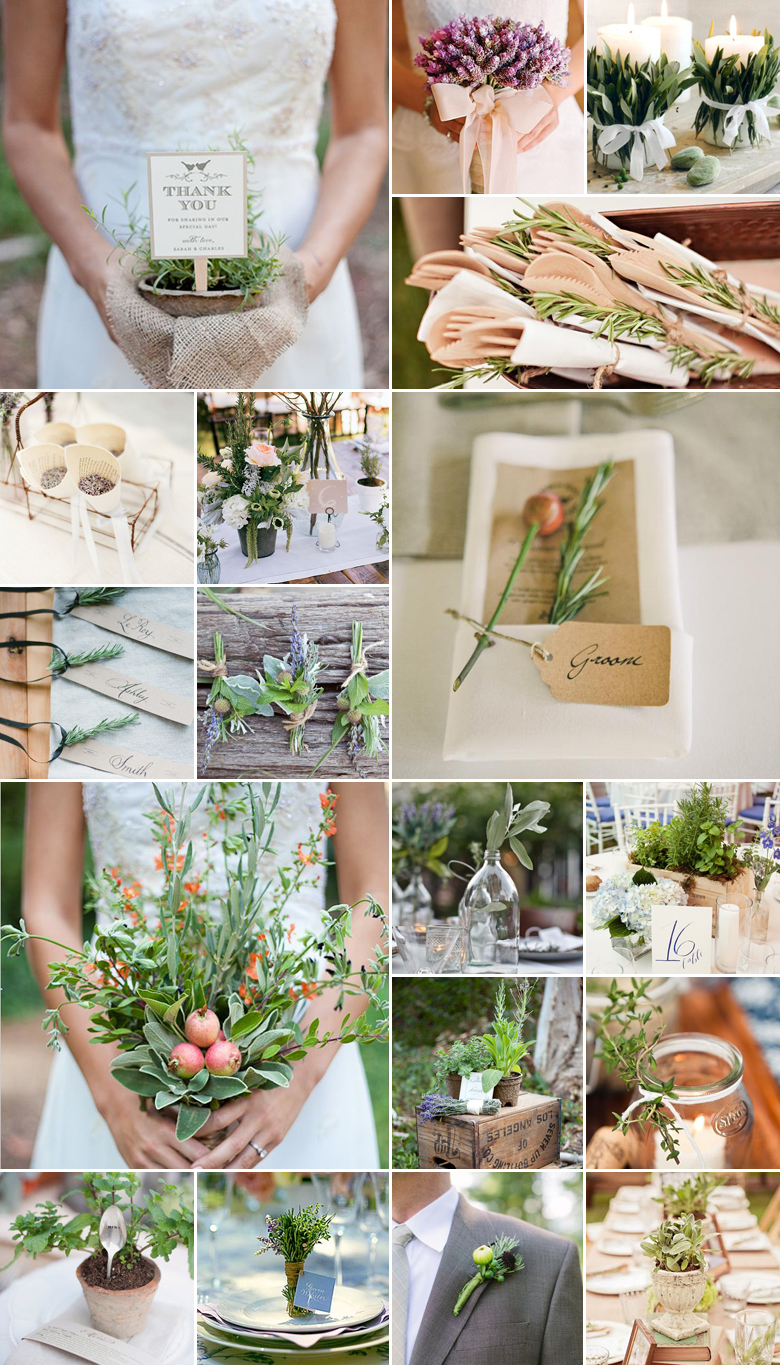 Herbs are Mother Nature's gift to the connoisseurs, demonstrating your taste for the finer things in life. This lovely culinary wonder adds a natural and organic touch to the wedding day, and in some cases, even a splash of colour!
Herbs display at their best when combined with raw elements such as burlap, and wood, as well as lace, terracotta and rusted metal. Do bear in mind that some fresh herbs have a very strong aroma and not all herbs complement one another – so pick your herbs carefully so your spark of brilliance doesn't end up inducing headaches.
Here are a few tips to flavour your day:
Spoil your guests by giving them a bag of herb seeds or an actual seedling as guest favour – a long term reminder of your special day. What's more, by arranging the seedlings in the middle of the table, they function both as favours and centre pieces.
Instead of paper bits, use dried lavender petals or sweet smelling herbs as confetti.
Decorate your table with herb pots or mini herb gardens instead of floral arrangements, and encourage guests to flavour their food according to taste, e.g. pastas, salads, etc.
Opt for a herb-inspired bridal bouquet or simply include a few sprigs in your floral bouquet.
Make your own flavoured napkin rings by simply wrapping a fresh herb sprig, like rosemary or fennel, around the napkins.
Hang bunches of herbs from the venue ceiling and rafters to create a cosy farm-type conservatory feel.
Instead of table numbers, assign a herb name to each of your guest tables. Then, to make matters interesting, use herb plants for your table plan and attach guests' names to it.
Make aromatic boutonnieres for the gents using a variety of complementing herb sprigs and flowers.
At the cocktail party, serve a wide variety of herbed cheeses and pesto's with crackers and freshly baked bread.
Use herb marker sticks to indicate table numbers, place settings, directions, etc.
Have your wedding pictures taken in a herb garden or in the middle of a lavender field.
Original images and their credits available on Pinterest