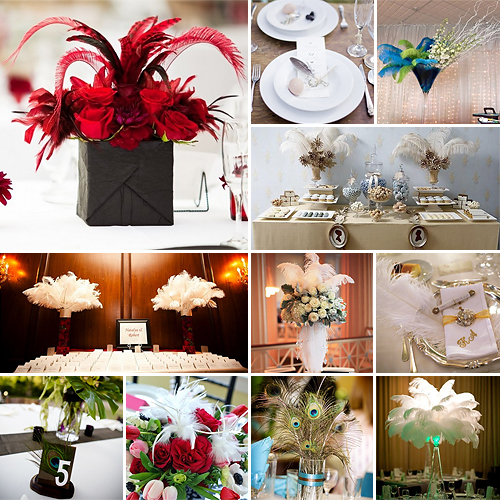 Feathered centre pieces are just one of those typical party decorations that always seem to bounce back just as you think they're going out of fashion for good. When it comes to dreams and drama, there are few elements that can match up to a simple feather. After all, nothing quite says Hollywood like a sky-high vase brimming with feathers.
Ostrich feathers are the first and most obvious choice that comes to mind, and with good reason! Arranged in a stunning towering crystal vase, it's drama personified. Peacock feathers are also a fabulous option, but should only be used if the bold colours are in line with the look and feel of your wedding day.
Feathers not only come in all shapes and sizes, but can generally be dyed and tinted in every possible colour of the rainbow, fitting right in with whatever your theme or colour scheme. Ombre is very high on the trend charts this season, so do play around with various shades of a colour to create a soft and mesmerising ombre feather creation.
If towering feather arrangements don't really spell "magnifico" for you, consider filling tall cylindrical vases with feathers or down. Combined with strings of fairy lights and candles, these simple arrangements reflect the light beautifully – the epitome of soft elegance and sophistication.
Lastly, for a more modern yet ethereal approach, opt for a hanging centre piece, such as a bird cage bursting with feathers or hollowed light bulbs filled with soft down and beads. Just make sure that these are constructed well so that guests won't get feathers in their starters.
For more ideas on Feather Centrepieces or to check out the original photos displayed above and their credits, make sure to check out our Feather Centrepieces Pinterest Board!