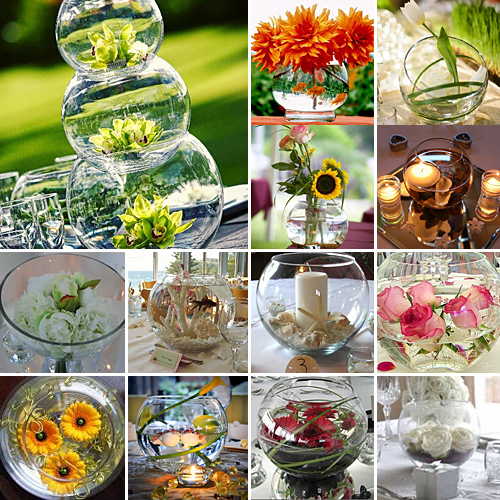 Fishbowls are really just another way of saying "big spherical glass vases", so even if googly fish eyes creep you out, don't scrap this idea just yet. Round glass bowls can be used in a variety of ways and really add a sense of grace and panache to any occasion. Thanks to the large surface of these stunning glass and crystal vases, fishbowls tend to reflect light all over the venue in a spectacular fashion, creating a whimsical and romantic setting.
Fishbowls are lovely, eye-catching and super versatile – here's the proof:
Use fishbowls as vases for your floral arrangements. However don't be afraid to play around with the various ways in which you arrange the pretty blossoms – place them inside the bowl, drape them over the side, go mad!
Fill a fishbowl with water and float candles on top for a soft yet striking evening centre piece.
If your guest favours are pretty little bites like cookies, meringues or truffles, place them in a fishbowl in the middle of each table – this way they act as both guest favour and centre piece. Simply put a box at each guest's seat so he or she can fill it up after the wedding.
Serve fishbowl cocktails. These are perfect for sharing between friends or partners and will make for excellent wedding pictures.
Place your confetti in fishbowls so guests can grab a handful on the way out.
Display the goodies on the dessert or candy table in large fishbowls – there's nothing more appealing than a large transparent sphere of macaroons or jelly beans.
Use the fishbowl as table number display – simply place your printed or wooden cut out number inside the bowl and ta-da!
For a contemporary centre piece, place bulb-type flowers like tulips in the bowl but with the bulbs still attached. Alternatively use succulents, making sure that the soil and roots are visible.
Place pictures of you and hubby-to-be inside, arranging them all around the side the fishbowl – a lovely and unusual photo display.
At the end of the day, a fishbowl is made for fish so decorate each table with a goldfish in a bowl – there you have it, a moving centre piece!
For more Fish Bowl Wedding Ideas, the original photos above and their credits, make sure to check out our Fish Bowl Wedding Ideas Pinterest Board!