Flags are not generally associated with weddings, but can be implemented very effectively to create a romantic, fun vibe. Basically, a flag is a piece of fabric or paper that is attached to a stick, pole or bunting. It usually has an image or letter on it to represent a person, place or thing. This is a fabulous way of incorporating a range of design elements or colours while not looking cluttered or complicated.
A basic way of including flags into your décor is simply to string flags of your wedding colours throughout your venue. But, there's so much more that can be done to include flags into your wedding theme.
Here are just a few ideas:
Print your invitations onto flags and post these to your guests. Make them really pretty and encourage your friends to bring them to the wedding so that they can wave them as you walk down the aisle and for group photographs.
The bride and her entourage can carry bouquets of little flags made from card (so that they stand erect rather than flopping down) instead of flowers.
Serve all of your drinks and desserts with little flags that identify them (e.g. "Yum-yum Peanut Butter Smoothie", "Naughty but Nice Nougat"). Making these cute and attractive will ensure that even these parts of your big day are gorgeous and memorable.
Place name settings should be flags that are perched within something else (such as a piece of fruit or a flower), or that is able to stand on its own.
If one or both of you are from a country other than that in which you're tying the knot, use your homeland's flag as inspiration for a colour scheme, perhaps even draping the tables in giant flags instead of table cloths.
Use different flags as props in your wedding photographs and / or photo booth.
Get some more inspiration from these gorgeous pictures: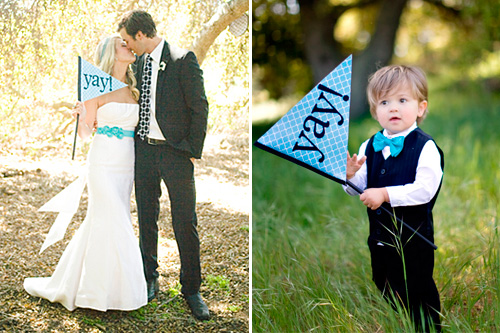 Joyful Weddings and Events