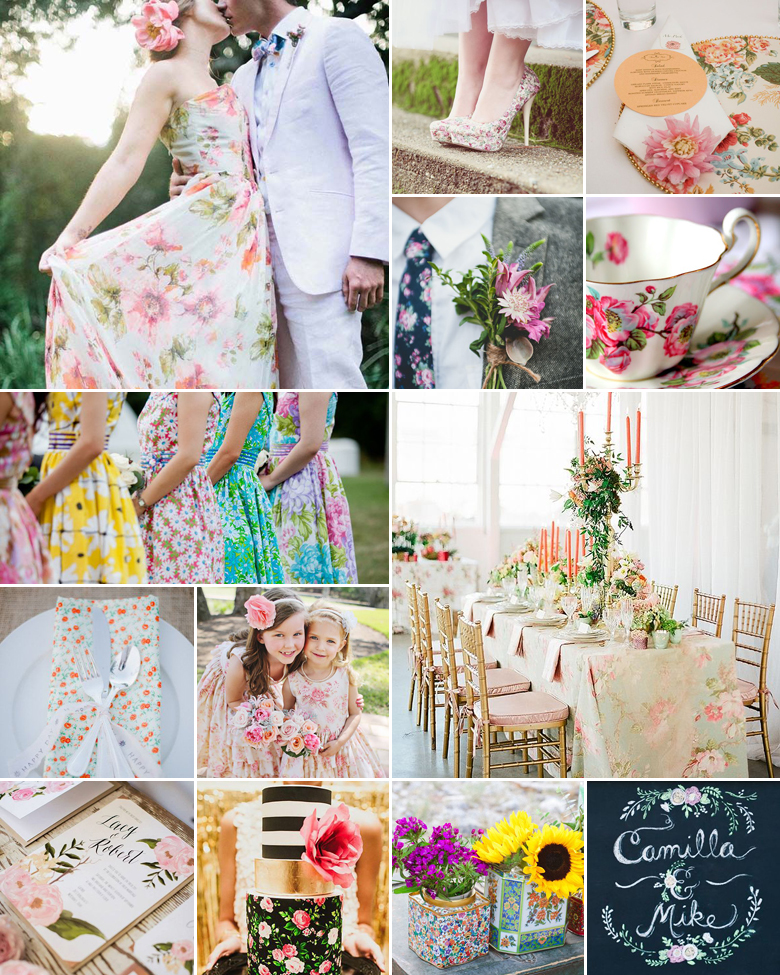 If you love flowers fresh, chances are you'll love them in print form too. Why are we so smitten with floral prints, you ask? Simple: These stunning designs bring happiness to any occasion and add a feeling of "texture" to an otherwise flat colour scheme.
As long as you don't overdo it with the florals pieces and patterns, this can be quite a striking and interesting theme. The key is to introduce the patterns in a way that surprises – especially ideal in scenarios where guests would otherwise expect to see monotone fabrics or colours. For instance:
Drape the tables in full floral tablecloths – so very vintage, so very festive.
Choose stunning flowing floral printed dresses for your bridesmaids, and complete your own ensemble with floral heels.
Opt for a floral design inspired wedding cake – simple and a decadent feast for the eye.
Place your guest favours in lovely handmade floral fabric bags.
Use floral printed ribbon to add finishing touches to things like the napkins, stationery elements and chair covers.
Make large floral backdrops for key areas like the bar and photo booth.
Frame pieces of floral wall paper in large vintage wooden frames and hang it on the wall as focal pieces.
If hubby to be is up for it, complete his outfit with a contemporary floral printed shirt.
Steal the show and break away from tradition in a stunning floor length floral print wedding gown.
Original images and their credits available on Pinterest