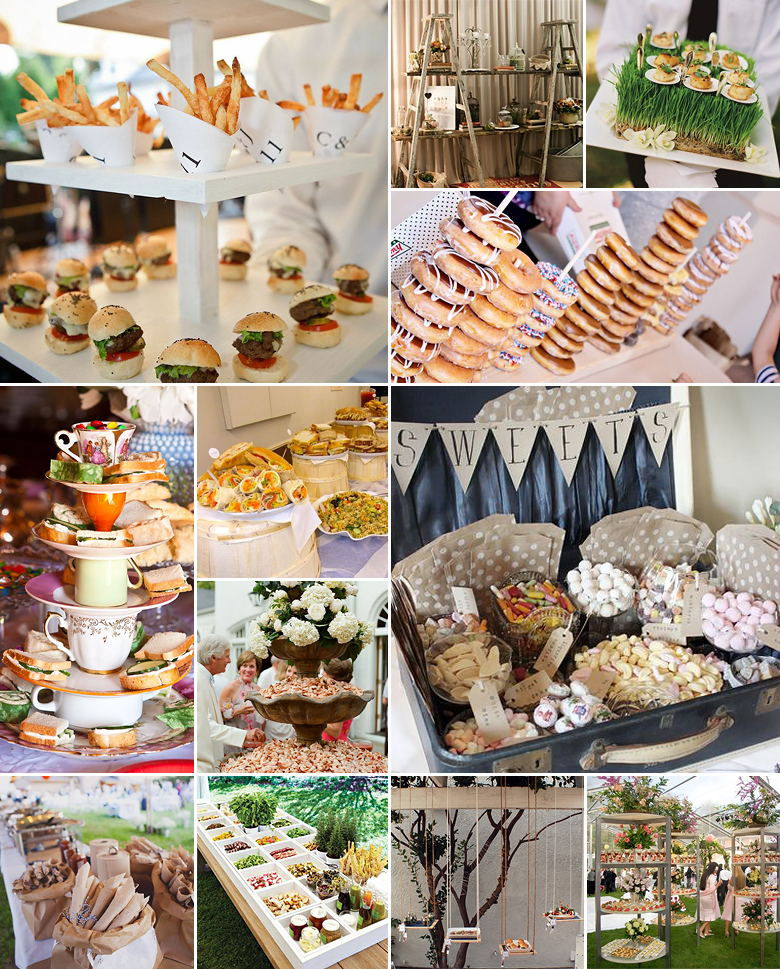 Once everyone has seen the bride, the next big thing in most guests' minds is the food. Turn your menu into an eye-catching focal piece with these interesting food display ideas:
Build your very own cupcake stand using vintage plates and tea cups as "supports" in between the layers.
For a somewhat rustic look and feel, present delicious pastries and breads in large burlap and brown paper bags.
Put old vintage suitcases to good use, either to display goodies on top or inside.
Wooden pails and halved wine barrels add a distinct organic edge to the food tables and are ideal for holding anything from bread rolls and fruits to popsicles and drinks.
When it comes to things like ice cream buffets, you'll need separation containers for the sprinkles and decorative goodies. Consider things like old printing trays, glass jars, muffin tins, enamel buckets and so forth.
Create hanging food displays by suspending buckets and other interesting containers from the ceiling.
Use tall glass vases of varying shapes and sizes to display vibrant and colourful eats and treats.
Put an old dressing table or chest of drawers to good use by displaying your food on top and inside the pulled out drawers.
Wooden crates and recycled cookie tins add a lovely homely touch to the table. Stack 'em up and fill it to overflow with all sorts of goodies.
To save space, turn an entire table into a giant cupcake stand. Simply use wooden slabs to create levels and display your goodies in a "pyramid".
Original images and their credits available on Pinterest