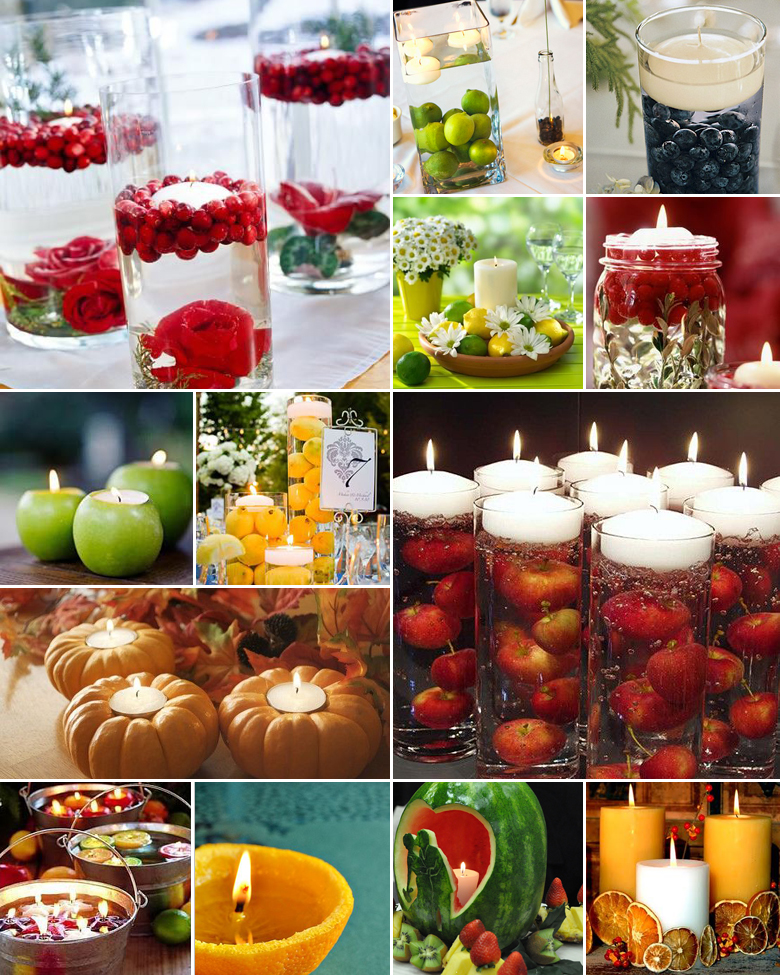 It's summertime, which means fruit and fruity colours play a major role in terms of wedding inspiration. We're currently extra obsessed with all the new and innovative ways designers are incorporating fruit into their work, and fruity candles certainly fit the bill.
Here are some interesting ways to combine fruit and candles with eye-catching success:
Decorate candles with dried fruit slices by melting the sides of the candle and sticking the slices into the hot wax.
Opt for fruity scented candles, available at most home décor and stationery shops.
Fill a glass vase with fresh fruits, and fill it the rest of the way with water before placing floating candles on top.
Make a small hole in the top of a solid fruit like an apple or lemon, and place a tea light candle inside.
Use hollow fruits like coconuts and watermelons to make stunning votive candles.
Fill a glass vase halfway with fruit and bury the base of the candles in the fruit.
Turn oranges or lemons into beautiful gel candles. Simply slice the fruit in half, hollow it out and fill the peel with gel candle wax and wick.
Make candles from scratch and embed dried fruits and cherries in the base of the candle.
Opt for a selection of quirky fruit-shaped candles to brighten up your guest tables.
Create a beautiful rustic and edible display of fruit and arrange candles in between and around it for a romantic setting.
Original images and their credits available on Pinterest