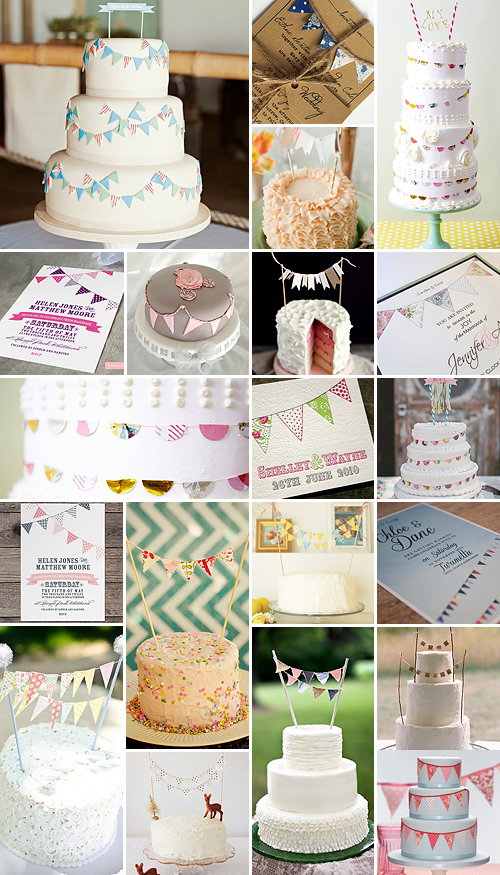 A while ago we did a post on minis: mini hamburgers, mini lights, mini succulents, mini cakes, you name it! But one that definitely stood out and, in our opinion, deserves an entire post to itself, is miniature bunting.
Bunting is probably one of our favourite wedding décor elements at the moment and can be adapted to fit any theme – from raw vintage to quirky elegance. For this tiny bunting to really fit in with your wedding décor, you'll have to combine it with life-sized bunting. But first, let's look at a couple of itty-bitty bunting ideas.
Decorate your invitations and other wedding stationery with miniature bunting.
Add a tiny strip of bunting to your hubby-to-be and his grooms men's boutonnières.
Wrap the mini bunting around the base of your bridal bouquet.
Hang miniature strings of bunting in between the metal "arms" of each table chandelier.
Keep an eye out for fun and quirky bunting-inspired necklaces and jewellery for your bridesmaids.
Use mini bunting as place settings and write your guest's name on a string of flags, and hang it on the back of his chair.
Alternatively, use bunting to indicate the various dishes on the buffet table. Attach each end of the bunting string to a skewer and plant the sticks in the food.
And then of course, if you have nowhere left to string some bunting, it's time to bunt the wedding cake! For instance, instead of traditional cake toppers, prop mini bunting on top of the cake – in fact, you can even go as far as writing your names or initials on the miniature flags. Whether you mount the mini bunting right on the very top or wrap it around the outer edges of each tier, the true prettiness of cake bunting can only really be described in pictures, so enjoy!
For more ideas on Itty-Bitty Bunting Wedding Ideas or to check out the original photos displayed above and their credits, make sure to check out our Itty-Bitty Bunting Wedding Ideas Pinterest board!