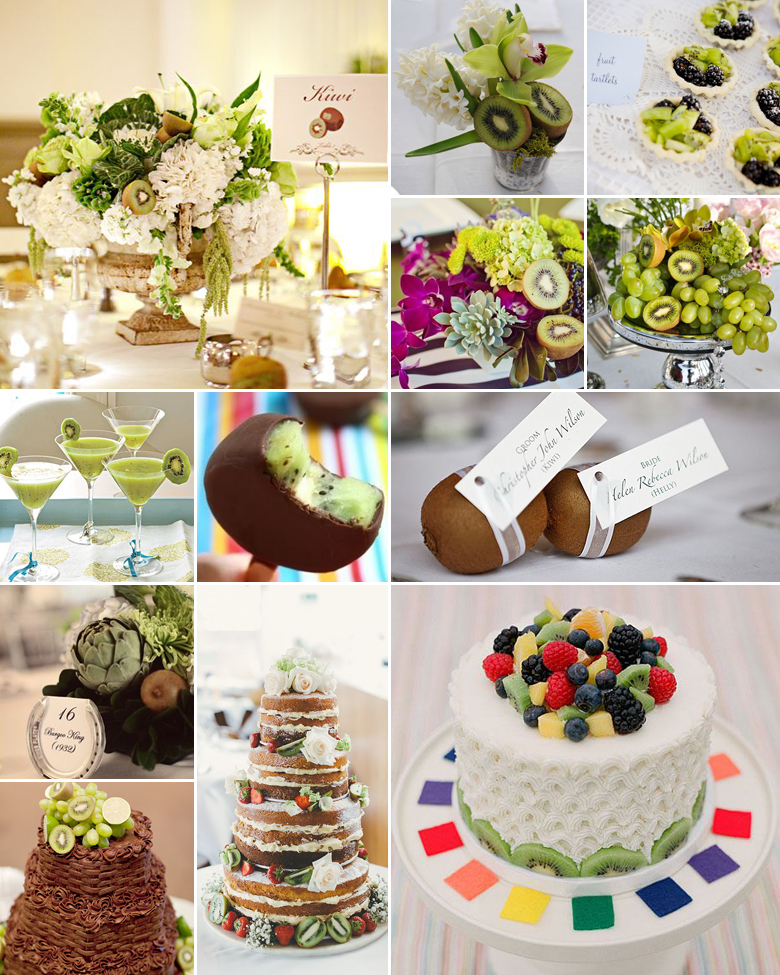 Few things say fresh vibrant summer quite like juicy and delicious kiwi fruit! Firstly, consider the colours of the kiwi when selecting your colour scheme – we simply adore the combination of fresh crisp green and rustic brown, with dashes of black to represent the tiny pips. Be sure to bear the ratio of green to brown to black in mind when choosing your outfits or setting the guest tables.
Here are some more kiwi fresh wedding inspiration for your summer celebration:
Decorate the wedding cake with slices of fresh juicy kiwi fruit or opt for a kiwi lime infused cake tower.
Consider having a tropical fruit tower instead of a traditional cake – kiwis along with pawpaw, coconut, mango, granadilla and pineapple.
Fill a vase with slices of kiwi fruit as decoration, and top it up with exotic flowers like hibiscus.
Serve delicious kiwi smoothies or cocktails as your welcome drinks.
Come dessert time, it's definitely the season for chocolate dipped kiwi popsicles and fruit laden pavlovas.
Decorate the table with big bowls of fresh kiwis and other green fruits and foliage.
The kiwi has a very distinctive pattern when sliced open – use this as inspiration for your stationery designs.
Alternatively, see if you can find a rubber kiwi stamp to use in personalising napkins, menus and so forth.
Spoil guests with kiwi scented guest favours like hand creams, home made soaps and luxurious lotions.
Light kiwi-scented candles in the reception venue or invest in a kiwi fragranced room spray.
Original images and their credits available on Pinterest