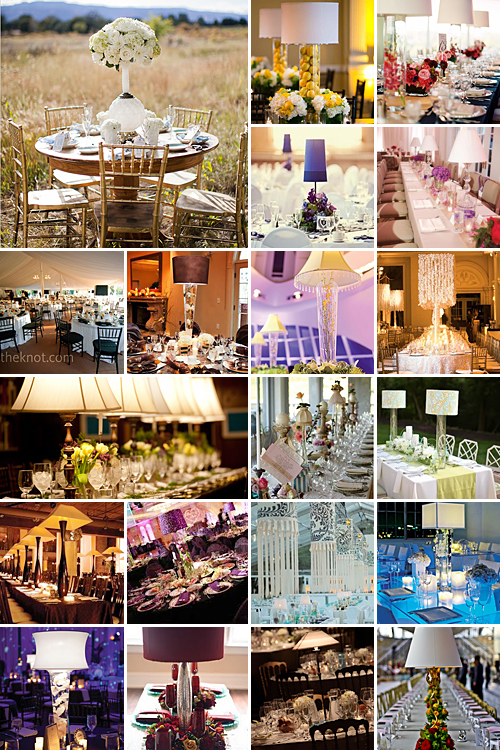 Lighting is one of the most important aspects of wedding décor – after all, there's no point in having décor, if you can't see it! Therefore, using lamps as centre pieces really serves two purposes – lighting the table and replacing or enhancing expensive floral arrangements.
One of the major aspects to consider when choosing the lamp to complete your table décor ensemble is the height. The ideal is to either opt for a lamp that sits below eye level or high enough so guests can dip their heads under it to share in the chit chat. But first, let's look at some ideas for incorporating table lamps into your wedding décor.
To create a truly vintage ambience, decorate the tables with a variety of simple standing lamps with fabric lampshades – don't even worry about finding matching lamps!
Have your initials / monogram and wedding date printed on the lampshades to make it more personal.
Go the old school route with old fashioned paraffin lamps – quite eco-friendly too!
Turn your venue into a shadow puppet theatre of sorts – simply decorate the lamp shades with cardboard cut outs in order to cast shadow shapes on the walls and ceiling.
Complement the standing lamps with hanging lamps and suspended floral arrangements to create a more three-dimensional effect.
Attach hanging crystals or beads to the lower rim of the lamp to cast and reflect the droplets of light all around the venue.
Create a table lamp and floral combination piece by decorating the base of the lamp with all kinds of magnificent flowers and foliage.
Light up the perimeters of the venue by placing tall standing lamps in the corners and along the walls. This instantly eliminates dark corners, creating a friendlier and warmer ambience.
Attach your guest favours to the table lamps! Something as simple as a biscuit dangling from a ribbon or n embroidered fabric heart is both a fabulous favour and décor enhancer.
For more Lamp Decor ideas, the original photos above and their credits, make sure to check out our Lamp Centerpieces Pinterest Board!