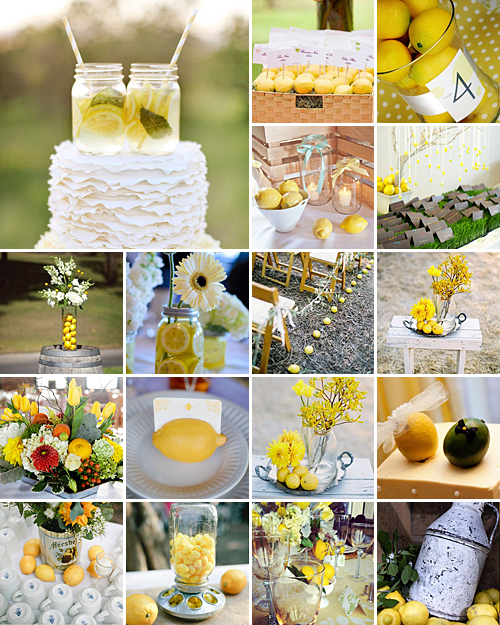 Lemons have a way of turning a dish on its head – in a good way, mostly – and the same can be said for lemons at a wedding. Does the floral arrangement look a little bland? Does that buffet table need a bit of a pick-me-up? Then add a dash of lemon!
These quirky yellow fruits can be used in ways that are more sweet than sour and you can even go as far as matching your entire colour scheme to the summery yellow shade of lemon. Remember: Lemons aren't for the faint-hearted, so don't be afraid to push the boundaries and be daring with your ideas!
Go all out with vintage yellow painted tables or chairs and suspend bright yellow Chinese lanterns from the ceiling for a jolly occasion.
Instead of toasting your matrimony with champagne, serve tequila shots with lemon and salt to get that party started.
Use lemons as place card holders – either make a small slit in the top of the lemon and slot the place card into place or attach the card to a toothpick and stick it into the lemon.
Make quirky lemon bunting by threading a bucket load of lemons onto fishing line or string and draping it in front of the main table.
Fill a large glass serving canister with fresh lemonade and lemon slices – a refreshing welcome drink that not only tastes delicious but looks lovely too. If you're planning more of a vintage carnival or rustic themed wedding, set up a traditional lemonade stand!
Use lemons as part of the wedding cake and dessert table decoration, and be sure to serve plenty of lemon meringue, lemon cheesecake, sorbet, lemon drizzle cake and other lemony goodies.
Line the aisle with pails of lemons or single lemons and consider using them to prop up quirky little signposts along the path.
Add a dash of flavour to the occasion with a lemon scented room spray.
Incorporate the lemon slice design into your stationery elements and use touches of yellow to brighten it up even more.
Place lemons in a tall glass vase for a striking centre piece. For a bit of bling, fill the vase with glass pebbles, pearls or even fairy lights.
For more Lemon Wedding ideas, the original photos above and their credits, please make sure to check out our Lemon Weddings Pinterest Board!