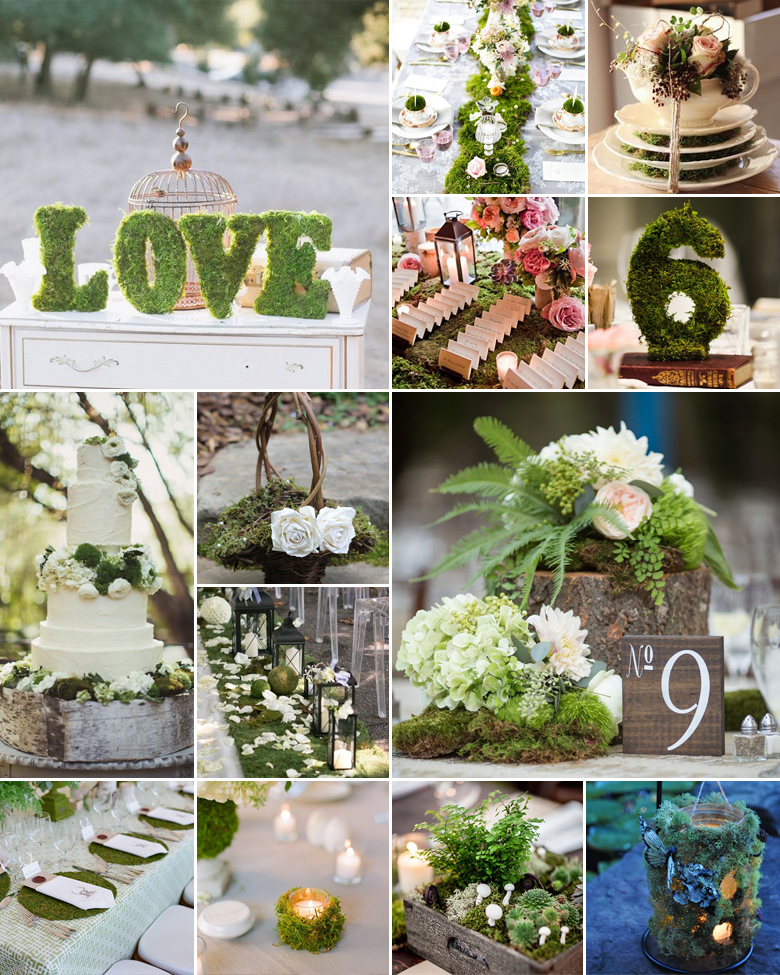 Moss is probably one of the most underrated plant species out there, but when placed in the right setting and combined with the right elements it becomes quite whimsical. In fact, a quick page through fairy tale books will show you that moss is really what makes every magical forest so incredibly enchanting.
Forming the foundation of themes like woodlands and fairyland, moss works well with other foresty elements like mushrooms and fairy lights. You'd also do well to combine it with natural rustic elements like tree bark, river stones and ferns.
Here are a couple of places moss will work best:
Place big chunks of moss down the middle of the table, in between the floral bouquets.
Have your wedding pictures snapped on a mossy bank near a river.
Create whimsical hanging arrangements with faux moss pieces draped from the chandeliers.
Pave the wedding aisle with moss or astro turf that resembles moss.
Use a mossy shade of green as inspiration for your colour scheme – especially lovely for a woodlands wedding theme.
Create a stunning candle centrepiece with moss layered around the base of the candles.
Use moss and other plants to make little terrariums as guest favours. In a nutshell, terrariums are mini gardens in glass jars.
Mix in bits of moss with flower petals for your confetti.
Ask your cake designer to incorporate fondant moss into the design of your wedding cake, or around the base of the cake stand.
Original images and their credits available on Pinterest