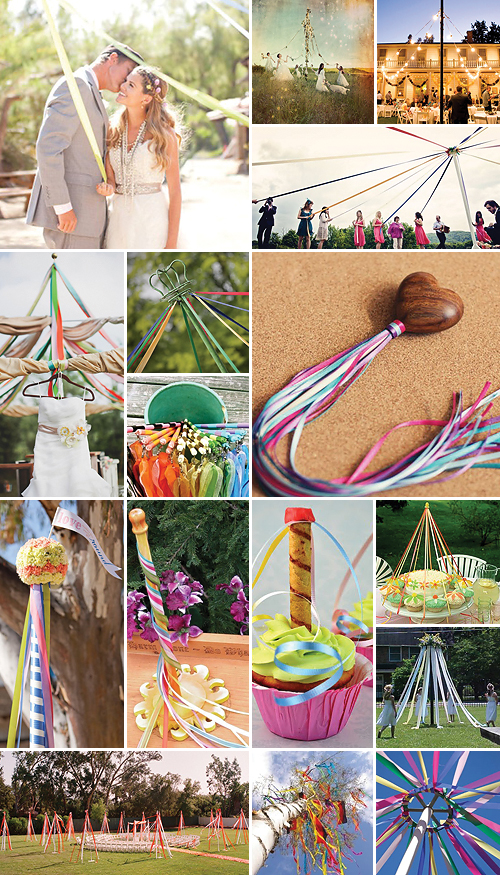 While maypoles might remind one of little girls dancing in a circle singing songs like ring-a-ring-a-rosie, the maypole is really part of a jovial form of traditional European folk dancing which generally takes place on May Day.
In essence, the maypole is a tall vertical pole that's painted and decorated with flowers, and can be characterised by the long ribbons extending from the tip of the pole to the hands of the dancers hippety-hopping around it. These days however the maypole is quite a popular wedding décor element, especially in the case of a vintage carnival or garden themed weddings.
While the Europeans use them strictly for dancing, we can think of a number of other interesting, intriguing and controversial ways in which to use them. After all, one cannot deny that the idea of ribbons streaking across the sky or ceiling and painted poles adorned with fresh flowers is rather enchanting, so why restrict your creativity?
Place a maypole in the middle of the dessert table and drape the ribbons over the delightful delicacies.
Use maypoles as canopies over each of the individual guest tables.
Have a maypole erected in the middle of the dance floor with ribbons and fairy lights extending to the outer edges.
If you're having an outdoor ceremony, plant maypoles all along the sides of the aisle.
Instead of a gazebo, create your very own maypole canopy under which to say "I do".
Turn an ordinary cupcake- or cake stand into a miniature maypole by decorating the centre rod with flowers and ribbons.
Adorn any pillars in and around the venue with ribbons and flowers to resemble a traditional maypole.
Instead of traditional confetti, have guests toss colourful paper streamers that are reminiscent of the maypole ribbons.
For your wedding photo shoot, play around with ribbons and decorated poles, and if you're the quirky type, indulge in a little traditional European May Day dancing out in the field with your new hubby.
For more ideas on Wedding Maypoles or to check out the original photos displayed above and their credits, make sure to check out our Maypole Wedding Ideas Pinterest Board!