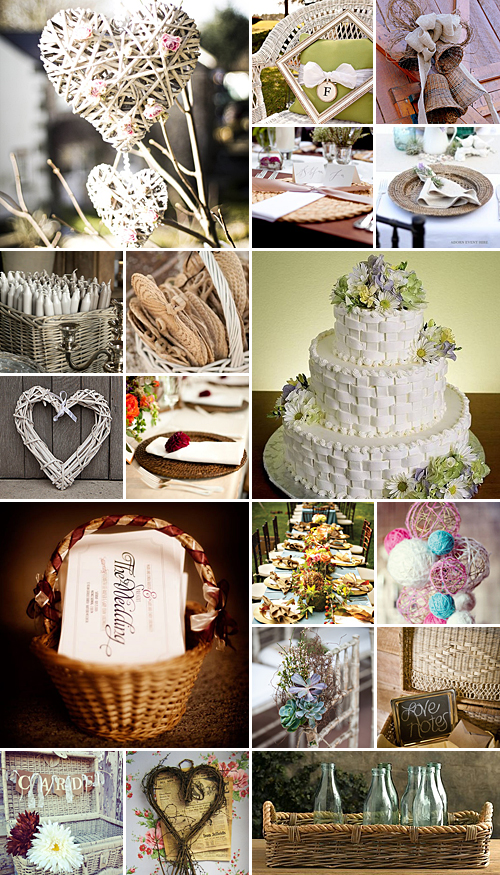 While you might instantly associate wicker with your grand parents' lounge, don't be too quick to click away, m'darling. This seemingly overused material is back with a bang, and we just adore the warmth and nostalgia that it brings with it.
Wicker is best complemented by light faded vintage fabrics and can also be successfully incorporated into a beach or rustic themed wedding. These days however, wicker is available in just about any colour or wash imaginable, and as a result it lends itself perfectly to more contemporary and ethereal themes as well. Let's look at a couple of quick ideas for a whimsical wicker wedding:
Decorate the wedding venue, door frames, ceremony gazebo, wedding aisle and chair backs with wicker hearts or spheres – available from most craft shops and markets.
Take it a step further by turning the woven wicker shapes into glowing lights – simply wrap fairy light around the shapes or use the shapes as "lanterns" over the little bulbs to create a magical and enchanting ambiance.
Put old wicker baskets to good use – to hold blankets for the guest, confetti and programmes at the ceremony or rolls on the bread table.
Keep an eye out for mini wicker picnic baskets, which you can use to serve food at an outdoor wedding.
Buy a whole stack of mini wicker baskets and use them for the guest favours – whether it be to hold homemade candies or luxurious soaps.
Incorporate the wicker weave design into that of your cake or wrap real wicker around the base of each tier.
Decorate the tables with wicker place mats, table runners or candle holders.
For the cocktail party, create a festive and comfortable outdoor scene by placing wicker furniture out on the lawn for guests to sit on.
Keep an eye out for wicker room dividers or planter screens to use as backdrop for the bar area or photo booth.
Original images and their credits available on Pinterest