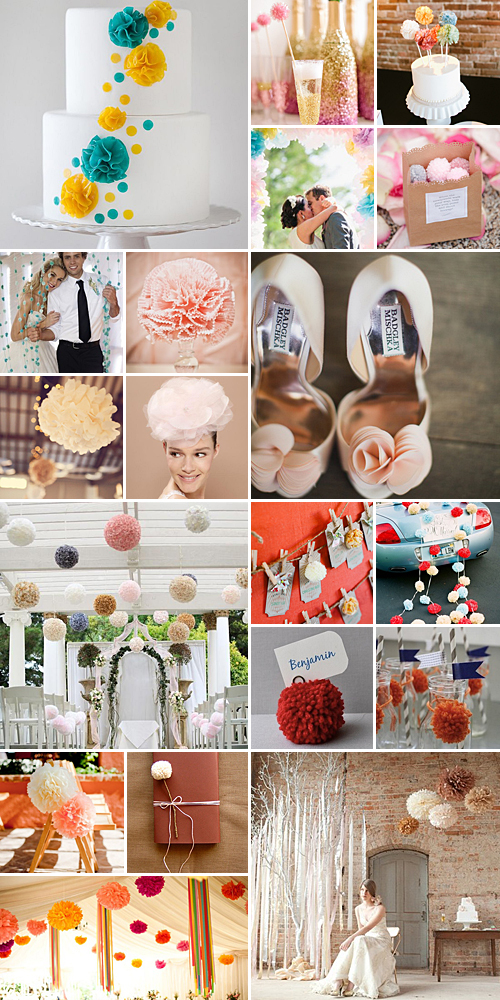 "Pom-pom pompom!" Isn't that exactly how the wedding march goes? So you can see why pompoms and weddings are a match made in designer heaven! Whether it's a pompom here and a pompom there, or a full-on pompom party – these darling decorations are guaranteed to add just the right amount of cheer and merriment to the occasion.
Pompoms are available, not to mention makeable, in all shapes and sizes. And don't you dare restrict yourself to cotton balls of fluff! Play around with various textures such as crinkle paper, printed newspaper, flowers, fabric, tulle and even lace. To keep the whoop-factor contained and stylish, stick to two or three pompom colours that match your colour scheme.
Fill little bags with mini pompoms to be used as an alternative to paper confetti.
Thread pompoms and flowers onto long pieces of fishing line and suspend this cute "bunting" from the ceiling and walls.
Alternatively opt for oversized paper or floral pompoms to glam up your wedding venue and dangle from the chandeliers. The floating balls of pretty will set a magical and mystical ambiance that's bound to wow your guests.
Decorate the wedding cake or cupcakes with fun and fluffy pompoms – though be sure to warn guests not to munch the yummy-looking decorations.
Bring pompom lovin' to the cocktail party! Jazz up the welcome drinks with pompoms-on-a-stick, fill vases with pompoms and fairy lights, and dangle pompoms from the trees.
Assign a different coloured or textured pompom to each table and use them as place setting indicators on the table plan.
Keeping in tune with the pompom theme, opt for round plump flowers such as hydrangeas, ranunculi, billy balls and peonies.
If you're the quirky type, add a pompom or ten to your bridal bouquet or decorate your shoes with two fluffy spheres.
Other elements that complement the pompom theme include: Chinese lanterns, plump helium balloons, frilly-frosted cupcakes and cake pops, and pinwheels.
For more Wedding Pompom Ideas, the original photos above and their credits, make sure to check out our Pinterest Board!