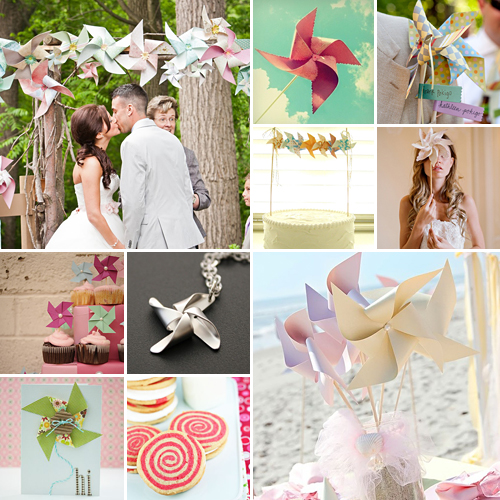 Pinwheels are sweet reminders of the carefree days of a childhood spent watching the colourful folds spinning in the breeze. The whimsy and innocence of these generations-old toys can make your wedding dreamy and enchanting.
They are available (or can be made) in a variety of colours, ensuring that they are designed precisely in line with your personal wedding theme colours. In addition, pinwheels can be made in a number of different sizes so that they are even more adaptable for your big day.
Here are some ideas to inspire you for your pinwheel-themed wedding:
Use them as photo props, having fun and being silly.
Arrange a number of different sizes and colours to form sweet table centrepieces.
Hold a bunch of pinwheels instead of a formal bouquet.
Craft your pinwheels to create cunning invitations.
Use mini pinwheels as hair accessories and in the button hole of your groom and groomsmen.
Fold your napkins to resemble pinwheels.
Put giant pinwheels on the sides of the chairs lining the aisle.
Create your outdoor aisle by sticking pinwheels into the grass on either side.
Original images and their credits available on Pinterest