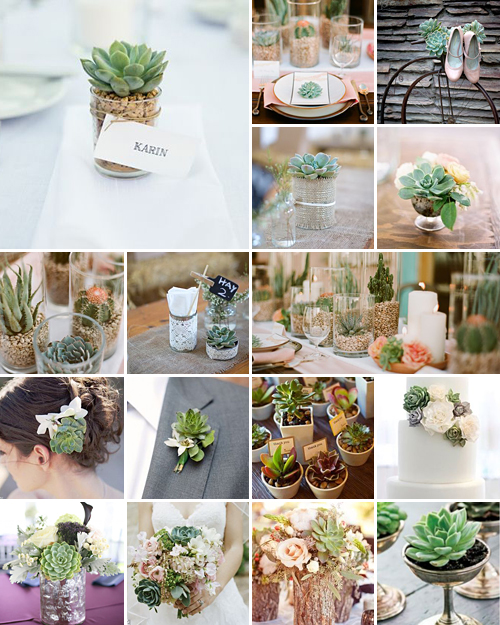 Succulents can be every bit as magnificent as traditional flowers and are really trendy at the moment. They can be pretty and delicate, robust and funky or really uniquely special to you, as a couple. Succulents make a great wedding theme because:
They are versatile and can, therefore, suit almost any theme or style of wedding. There are a number of different colours and sizes too, which means that they can be implemented in various areas of your wedding day without limit.
Succulents and cacti are hardy and require little water and maintenance, leaving you to enjoy your day without worrying about them wilting.
Succulents are easy to source and purchase, even in large quantities.
They are also cost effective, usually costing far less than formal blooms.
To use succulents effectively in your wedding theme, incorporate them into the following parts of your big day:
Bouquets and arrangements – whether you use succulents on their own or pair them with flowers, feathers and / or grasses, they make for stunning additions to the bouquets and arrangements. Mix and match, or simply have a solitary succulent as a centrepiece for a more dramatic effect.
Accessories – succulents can be included in your hair accessories, the pin holes of your groomsmen's suits, and so on. Jewellery and shoes can also be used to convey the succulent theme if they are in similar colours or have imagery similar to that of the succulents you have used.
Décor – place a succulent at each place setting, as table centrepieces, on the wedding cake and around the venue to enhance the theme of your wedding day. Line the aisle with gorgeous succulents. Purchase candles shaped like succulents for a warm ambience that does not negotiate on your theme, and choose theme colours that resemble the succulents you have chosen.
Guest favours – your guests will never forget your wedding if you give each of them a sweet succulent to take home as a keepsake.
Original images and their credits available on Pinterest