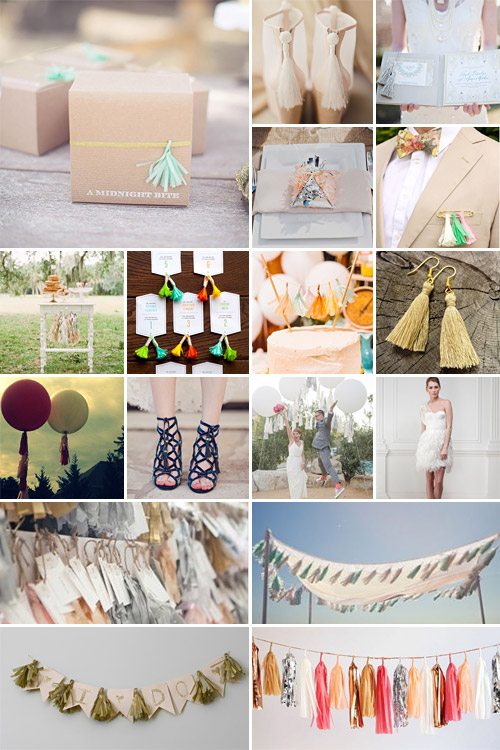 What is more festive than a paper or fabric tassel fluttering in the breeze? The answer is, pretty much nothing. These easy-to-make wedding day accompaniments add a touch of royal drama to the occasion as well as carefree whimsy, whichever way you choose to look at it. While you might instantly associate it with the kitschy tassels in your elderly neighbour's heavy drapes, there are multiple ways in which to put a modern spin on an old favourite. Here's how:
Roll up your stationery elements, for instance the menu and programme, and wrap it up with a tassel.
Choose interesting tassel-inspired jewellery like fabric earrings or tassel chain bracelets, and braid a hanging tassel into your hair for a flower child inspired look.
Instead of normal bunting, attach oversized fabric tassels to a long string and hang it in the trees or ceiling. Alternatively hang massive tassels off the back of each guest chair or over the guest tables.
Opt for cute vintage-style tasselled shoes for the bridesmaids and make fabric tassel boutonnieres for the gents.
When it comes to wearing tassels with flair, Pocahontas is our go-to girl, so incorporate hanging tassels into your wedding dress and shoe designs.
Decorate the wedding cake with fondant tassels or hang cute little crystal ones all along the base of the cake stand.
Instead of confetti, hand each guest a big paper tassel to wave in the air or attach the tassel to a stick, and don't forget to decorate the base of your bridal bouquet with a tassel or three.
Original images and their credits available on Pinterest