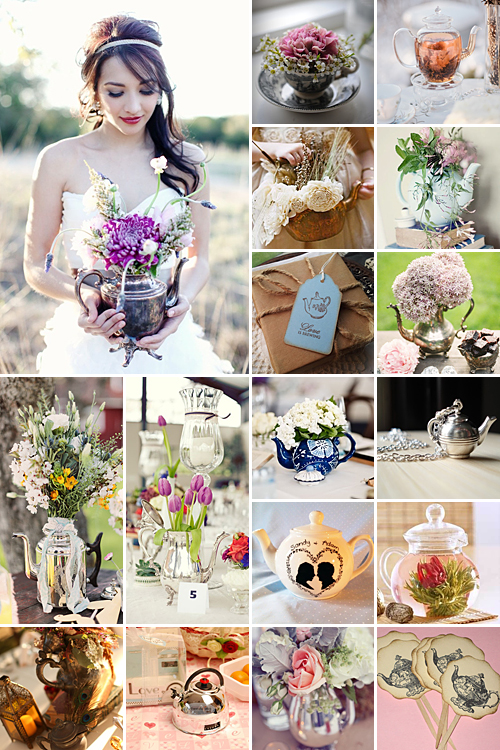 Lovely to look at and lovely to hold, anything from tea to fresh blossoms, that is! Few things bring friends together like a cup, or rather a pot of tea so why not apply that same principle to your wedding day? From floral design teapots and antique silver straight out of Buckingham Palace, to hand painted, glass and dainty ceramic pots – teapots are available in all shapes, sizes, styles and colours to suit your personal taste and style.
Here are a couple of tea-riffic ideas for incorporating Granny's teapot into the festivities:
Hang teapots from the trees or ceiling for a whimsical and mystical Alice in Wonderland type ambience.
Arrange freshly picked flowers in a teapot or use the pretty little container to display decadent goodies on the candy table.
Serve a selection of floral infused teas in see-through glass teapots – the flowers floating in the tea water is equally lovely to look at as it is to taste.
Set up a tea party table in the photo booth area where guest can put their pinkies up and go a little tea-tipsy.
Decorate the wedding venue walls and roof with hanging laser cut paper tea pots and cups, and incorporate the teapot into your stationery designs.
Why serve tea when you can serve something a little stronger? Surprise guest with teapots filled with white and red wine on the tables.
Instead of the traditional bridal breakfast, organise a tea party or high tea for you and your bridesmaids, and give each one a lovely vintage teapot as a gift.
Turn the teapot into a "lantern" – simply flip the lid upside down, place a candle on top and there you have it! To add to the prettiness, pop a flower or three in the spout.
For more Wedding Teapot Ideas, the original images above and their credits, make sure to check out this Pinterest Board!