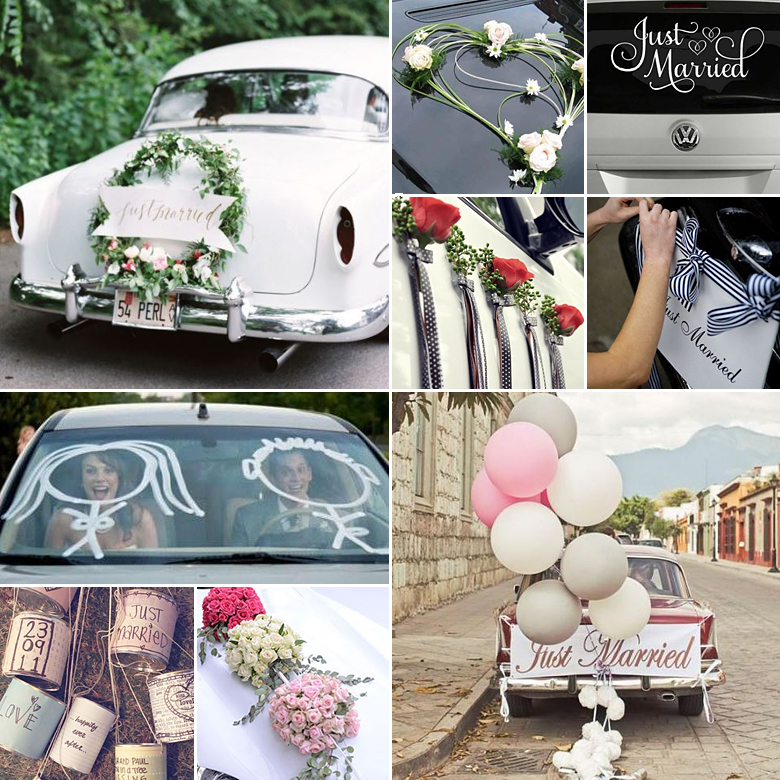 When the time comes to make your great getaway, there's really nothing that can kill your spirit than finding lipstick writing all over the polished paint! Give your guests some guidance, with these lovely and stylish ideas for pre-decorating your getaway mobile:
Instead of cans, attach long lengths of ribbons in colours matching your wedding theme, to the back bumper.
If you still love the idea of cans, decorate them with a coat of spray-paint in a colour of your choice.
Let each guest write a word of wisdom on one of the tin cans before attaching it to the car – that way it becomes a more meaningful tradition.
We just love the idea of a big floral wreath decorating the back window of the car.
Decorate the roof of the car with a big bunch of plump and colourful helium balloons.
Hang large fluffy tissue paper pompoms from the back of the car or opt for festive flower orbs.
Have custom license plates made with your surname or wedding date printed on it.
Make pretty bunting or floral- and beaded strings that can hang off the back of the car.
Who says only the back of the car should be decorated? Stuff additional flowers and pretties in between the wiper blades and front window to complete the picture.
Attach a floral wreath to the grill of the car or drape the bonnet in soft folds of fabric.
Original images and their credits available on Pinterest