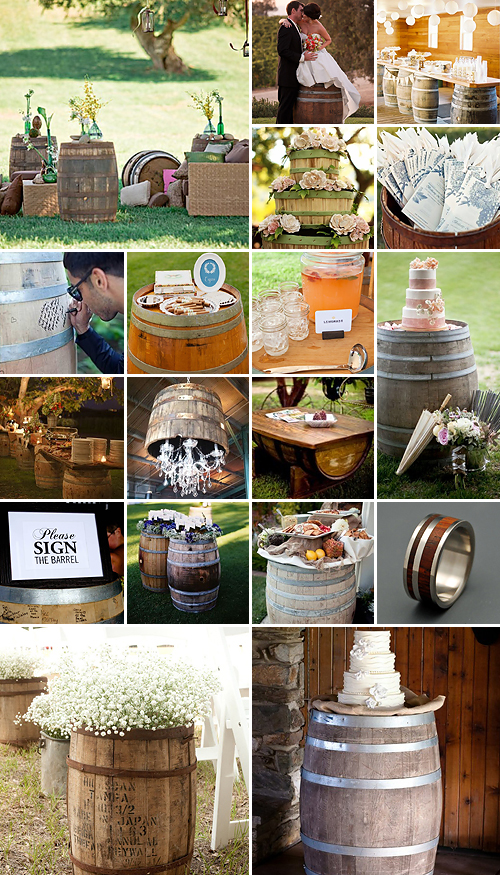 Rustic chic weddings are becoming increasingly popular yet they're still so exceptionally unique in every way and never seem to lose their charm. While rustic elements are available all around you, nothing says "rustic" quite like a wooden barrel. These lovely little extras have a magnificent old world character about it that's hard to match and, though they're difficult to come by, they're definitely worth the added effort.
HINT: Every wine maker will tell you that real oak barrels are quite pricey, and most won't even consider parting with their beloved circular caskets. Wine barrels do however have a tendency to break or grow a touch of mould with time, in which case the barrel is often set aside. So if you're merely using it as a prop, try getting your hands on a couple of these. Alternatively you might be able to rent a couple through hiring services.
Place barrels side by side to act as bar, refreshment stand or even buffet table.
If you're planning a picnic wedding, use half barrels as seating or giant ice buckets.
Arrange your flowers in wooden pails (aka wine barrel lookalikes) and have your flower girl carry one down the aisle instead of the traditional basket.
For a more authentic wine estate ambience, have your favourite wine on tap! If possible, arrange with the wine maker to set aside a barrel from which guests can taste and drink to their hearts' delight.
Instead of the usual high cocktail tables, use barrels on which you can put out snacks and around which guests can then socialise.
Provide an old barrel along with permanent markers and carving tools so guests can turn the barrel into a guest book with a twist.
Have your photo shoot or reception in a real old fashioned wine cellar – simply ideal for winter!
Alternatively place an old wine barrel in the photo booth along with dress-up clothes, and see what guests get up to.
For more ideas on Wedding Barrels or to check out the original photos displayed above and their credits, make sure to check out our Wedding Barrels Pinterest Board!