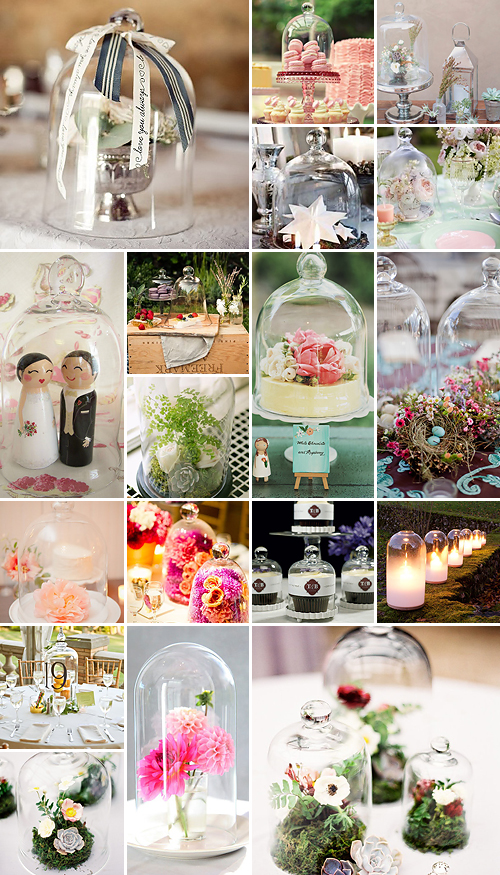 This season wedding bells have taken on a completely new form, one that's simply too romantic, whimsical and fairytale-like for words. The wedding bell jar has carefully manoeuvred its way into the hearts of wedding planners and brides across the world, not to mention interior decorators (HINT: If your budget allows for it, buy a couple of bell jars instead of renting them so you can keep them for your home afterwards).
Bell jars are incredibly versatile and reminiscent of the significant rose in its glass casing in Beauty and the Beast, giving it a somewhat magical aura. If you're not exactly sure what one would do with one of these ("is it a kind of punchbowl?") then hang onto your veils for some bell jar inspiration:
Place a single rose under a tiny bell jar and arrange these in a row down the middle of the table.
Alternatively play around with bell jars of varying sizes covering floral arrangements of all shapes and sizes and placing them down the middle of your table.
Don't have money in the budget for bell jars? Simply turn a couple of wine glasses on their heads and use them as make-shift bells.
Use bell jars on the dessert table to keep all the sweets 'n treats covered and looking stylish until it's time to dig in.
Use a bell jar to display your table numbers, which can be anything from perspex cut-outs to
Bell jars are an excellent way to prevent a fire hazard, so simply place them over oil lamps or candles for a glittering display. As they don't seal tight, they still allow enough air through to keep the candles burning bright.
Place your rings under a small bell jar and have the wedding photographer snap a couple of pictures through the sparkling glass.
Top your wedding cake with a small bell jar, trapping your cake toppers underneath.
For more wedding bell jar ideas and the original photos with their credits, please make sure to check out our Wedding Bell Jar Ideas Pinterest Board.