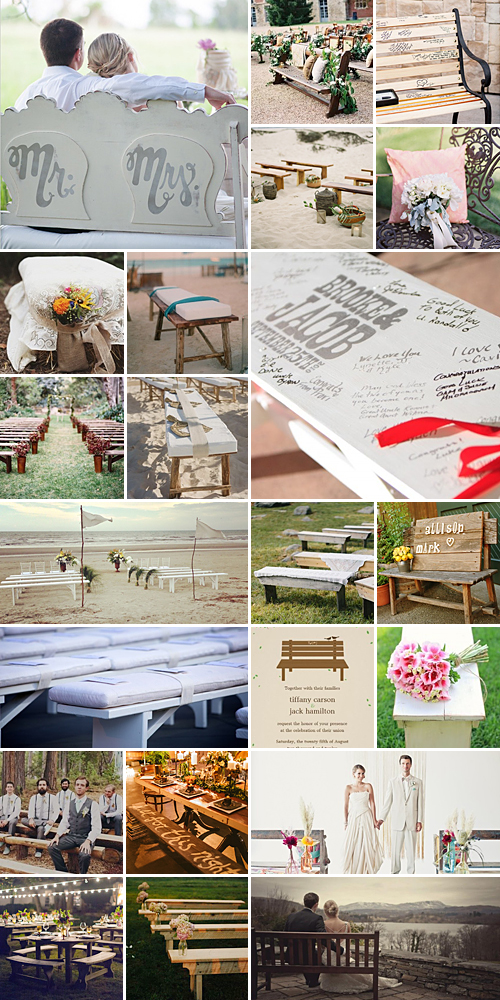 If you enjoy romantic picnics on the park bench or watching the sun set from the comfort of your little beach bench, then look no further than this wedding must-have. Wedding benches are oh-so perfect for the ceremony and reception, and can be quite a fun and unexpected alternative to the usual single straight-backed chairs.
Before you lose heart and soul on a rickety bench however, you need to bear the comfort of your guests in mind:
Should you opt for straight "back-less" benches, it's important to keep the speeches short and allow guest to stretch their legs in between.
If the majority of your guests are older (with aches and back problems), then straight wooden benches might not be ideal. Alternatively opt for garden benches with curved backs.
Wooden benches can be like stone under the bum when the occasion gets long and drawn out, so consider topping them with plush cushions that match your wedding theme colours.
In the case of benches at a reception, it's important to either use benches without backs or restrict it to two people per bench so that guests aren't "trapped".
What we just adore about wedding benches (as opposed to chairs, that is) is the fact that they're just so fun and easy to decorate. For instance, instead of having to tie elaborate arrangements to the aisle ends, simply place a vase of flowers on the end of each bench, wind a string of beads around each of the legs or drape a length of fabric over it.
Other ideas include using a garden bench as "guest book" and having your guests carve their messages into the wood (which you can use to brighten up your new home), or using a pretty little decorated bench as part of your wedding photo session or in the photo booth.
For more Wedding Benches Ideas, the original photos above and their credits, make sure to check out our Wedding Benches Pinterest Board!