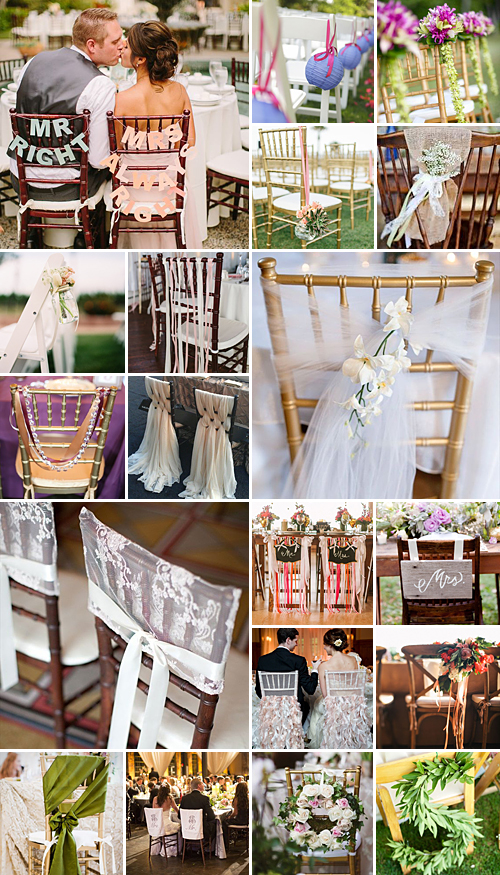 The chairs that you use at your wedding ceremony and reception will form a large part of your décor, look and feel. So, don't neglect this important aspect. Of course, the décor elements that you choose to use on your chairs depends very much on your theme, colours, setting, budget and personal tastes.
If you are decorating them yourself, there are plenty of DIY options available to make the job easy, while still achieving a unique, creative effect. If you have a professional decorator, research a few decorating options and show these to them to help them to get an idea of your vision for the special day.
Here are some ideas to get you thinking:
Beginning at the bottom of the chair, criss-cross tulle upwards until your reach the top to resemble a ballerina's shoe or, possibly, the back of the wedding dress. Once you have reached the top, wrap the fabric around the top bar of the chair and make a knot in the centre of the chair's back. Hide the knot by tying the remaining fabric into a ribbon, or place flowers, feathers or grasses onto it.
String beautiful shells onto a length of clear gut and let this hang down the centre of the back of each chair.
Take a wide satin ribbon and tie it around the chair. Make a bow that has about five loops to it, and cut the tails of the bow to be at different lengths, from short to floor-length. Pin a flower, pinecone or fabric creation onto the end of each tail.
Tie a dried starfish around the back or the corner of the chair using wild grass or raffia.
For upholstered chairs or those with a fabric chair-cover, pin a palm leaf into the centre of the back with a little flower (like a Frangipani or a sunflower) in the centre. This is great for beach-themed weddings.
Tie colourful lanterns (whether Chinese or garden-style) around each chair for a burst of colour and fun.
Original images and their credits available on Pinterest