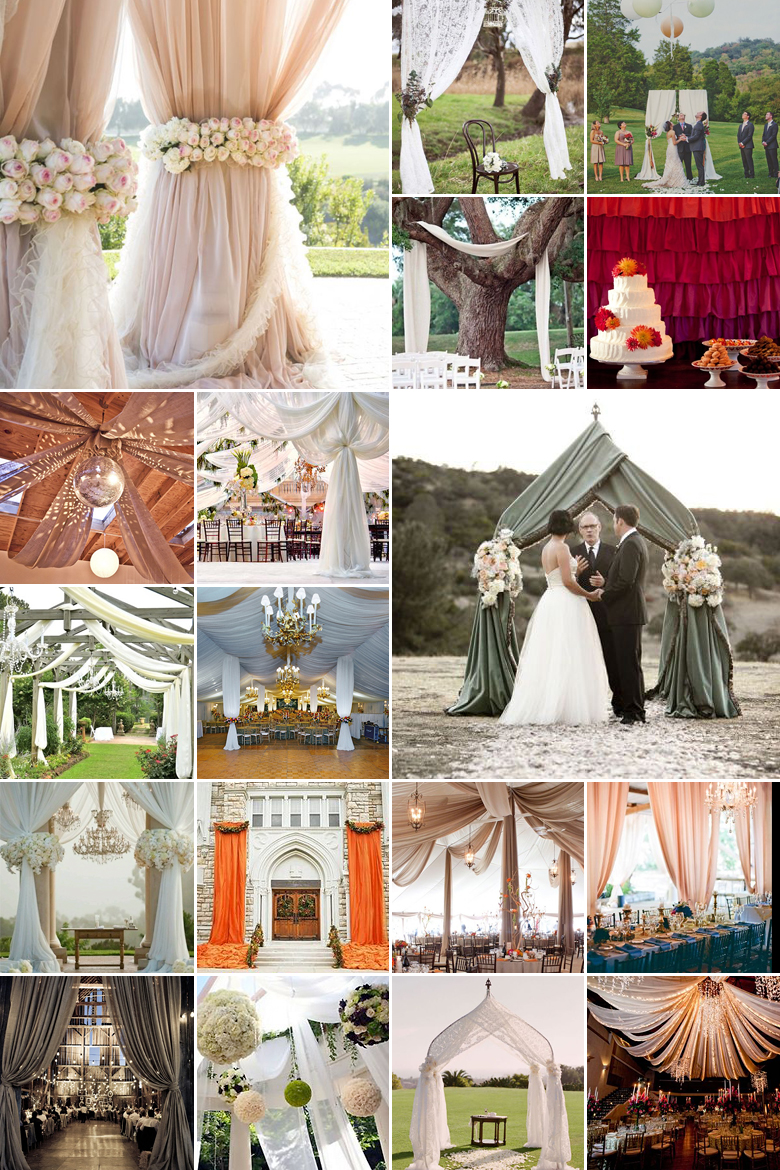 Draping can be defined as "loosely covering or wrapping in folds of cloth". When it comes to your wedding day, there are a number of ways in which this technique can be used to create an overall romantic setting:
Backdrop draping: This can be as simple as hanging drapes in front of a wall to create a soft backdrop for pictures, main bridal table, dessert stand or photo booth.
Ceiling draping: Often used to "lower" the ceiling of a venue to give it that sense of coziness and warmth. Add fairy lights, chandeliers and strands of fresh flowers to make it that much more magical.
Arch draping: Create an arch out of fabric by draping it over a metal, wooden frame or even a tree branch, should you choose to get married outside in a rustic setting.
Table draping: We just love the current trend of tables covered in overly long table cloths that drape and spill onto the floor in soft folds.
Chair draping: Draping chairs in layers of fabric is another way of adding touch of softness to your reception venue. However, to keep it from becoming too much, best combine it with simple under-dressed tables.
Door and window draping: Use draping to frame doors, entrance ways and windows and really make it a focus point in the venue.
Sectional draping: Often there are areas of the reception venue that need to be concealed – for instance, the kitchen area or bathroom doors. Draping provides a simple and effective solution to cordoning off such unsightly areas.
Original images and their credits available on Pinterest