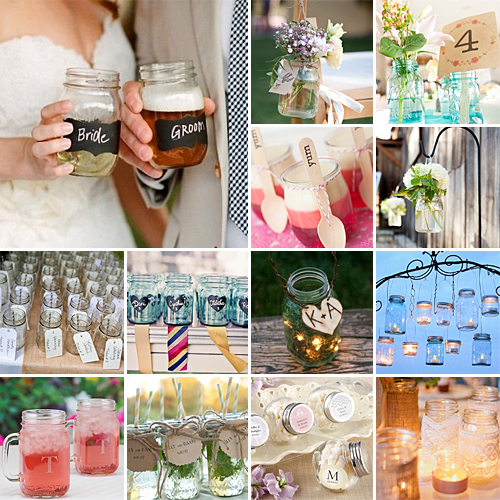 Glass jars (also known as Mason Jars or Consol® jars) have many uses around the home, office and garden. However, brides-to-be and wedding decorators now have the option of incorporating them into the wedding décor for authentically vintage styles and really trendy looks. We love the simplicity of these glass jars. They are recyclable and can be used in and around the home for years after the wedding, making them even more eco-friendly. They also have a unique look when used as part of your décor, attire or guest favours, giving your special day a really chic appeal. Here are some ideas to inspire you to use glass jars in your big day:
Attach a sturdy ribbon around the top of the jar so that you can hold the jar from the ribbon. Then, place your bridal bouquet in this handy 'vase' and carry it down the aisle.
Make a hole that is just big enough for a straw in the metal lid of the jar. Then, serve homemade lemonade or ginger beer, or a mean cocktail in these ample glasses.
Glass jars double as great vases for your centrepieces. Fill them with flowers, or place a floating candle inside.
Fill your jars with colourful sweets and offer guests a fun candy buffet for dessert.
Pile all of the dry ingredients necessary for your favourite biscuits, hot chocolate, cupcakes or muesli into the jars and attach the recipe to the jar as a great guest favour.
Alternatively, make your own preserves, jams and marmalades and give this to guests in the glass jars for a memorable, useful gift.
Half-fill your jars with sea sand and place a candle firmly inside for an instant fairytale lantern. These can be hung from the trees and dotted around your venue.
Print special photographs, roll them gently lengthways and insert these into the jars so that they open up inside. This creates a kind of cylindrical photo frame, which is great for the décor or as guest favours.
Original images and their credits available on Pinterest