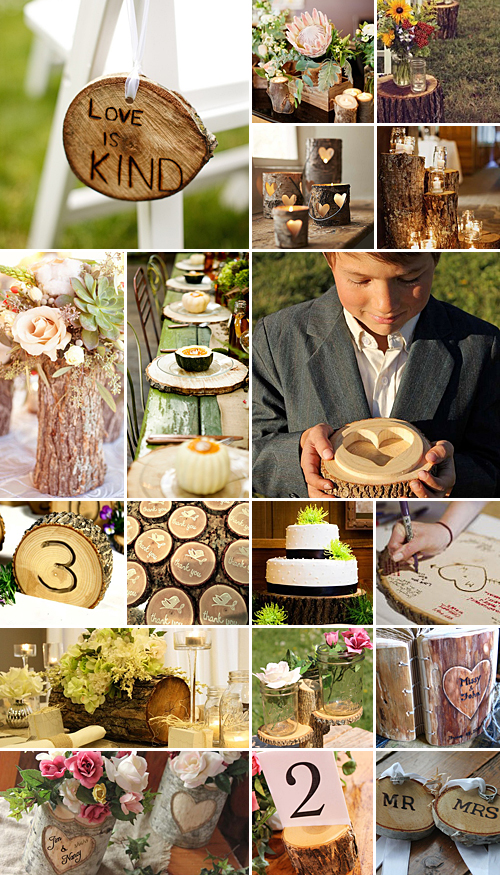 If there's one element that truly embodies rustic style, green living and natural appeal, then it's the humble log. No two logs are the same and the fact that it can either be stripped down or used with bark and all, makes this stylish and earthy décor piece something of a must-have for any rustic, farm-styled, country, organic or outdoor wedding.
IMPORTANT NOTE: Always be careful of splinters when handling the wood and be sure to only use logs that are non-toxic, especially in cases where the log comes into contact with food.
Hollow out the top or side of a log (depending on whether you'd like it to stand up or lie on its side) and use it as a floral vase. Place a tin can inside to hold water for the flowers.
Use logs of varying heights and lengths to create interesting pillars and platforms all around the venue – for instance on the dessert table, to create a candle display, as a cake stand or to raise floral arrangements.
Chop a log into round disks and use these as place mats, to write on (signs and name tags), as stepping stones, table numbers or serving plates.
For something a little different, use a soldering iron to "write" on the wood.
Don't you agree that cinnamon sticks kind of resemble mini logs? Serve steaming cups of hot chocolate with cinnamon sticks or tie a couple of sticks around a candleholder for a sweet smelling DIY votive candle.
Turn logs into tea light candle holders. Simply make holes in the sides of a log, big enough to hold a tea light, and voila!
Serve all kinds of log-like treats such as chocolate logs, cake rolls and dipped pretzels.
Host your reception in a log-cabin style venue or have your pictures taken in a log-strewn forest.
If you're planning an outdoor affair, place a number of large logs on their sides, arrange cushions on top and use it as seating.
Warm the limbs with a massive log fire! This provides the perfect setting for roasting marshmallows and dancing around the campfire.
Make slits all the way down the side of a log and slip the place cards into 'em – the perfect rustic table plan!
For more Wedding Logs Ideas, the original photos and their credits, make sure to check out our Wedding Logs Pinterest Board!