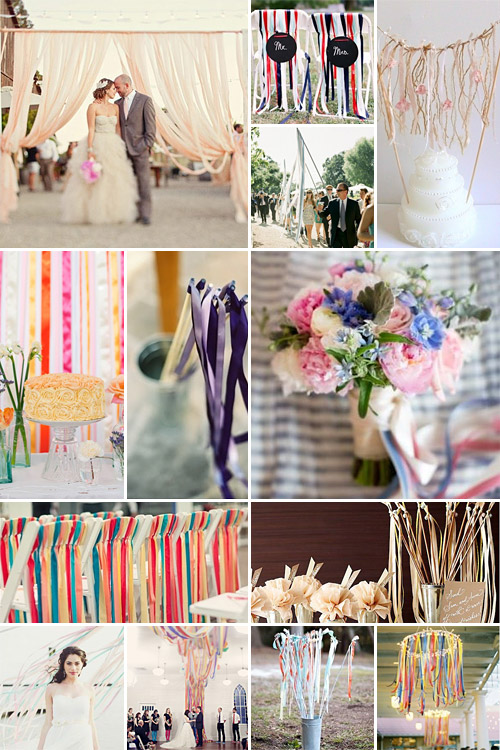 As long as splashes of colour and celebratory notes stay trendy, streamers will never go out of fashion. Whether twirling in the wind or dangling from the roof, these pretties are the timeless epitome of festive joy and a true embodiment of childhood happiness. Let's look at a long colourful string of ideas:
Decorate an unsightly ceiling by draping streamers from wall to wall, with fairy lights or Chinese lanterns dotted in between.
Create a festive whimsical ambiance by suspending streamers straight down from the ceiling, letting it dangle straight down with the ends almost touching guests' heads.
Alternatively, make your own streamer chandeliers by attaching the paper pretties to a hanging ring or existing chandelier.
Use colourful paper streamers, in theme appropriate colours, instead of the traditional confetti – the wedding photos will be something quite magnificent!
Alternatively, if the venue doesn't allow for paper mess and fuss, attach ribbons or streamers to dowel sticks which your guests can wave as you leave the ceremony venue.
Streamers are the ideal width and thickness for DIY paper rosettes, so make a whole fancy bunch for guests' lapels and table decoration.
Create unique vertical stripe designs on a plain table cloth by running streamers down the middle of the table – like an alternative table runner.
Jazz up the tables even more by attaching streamers all along the sides of each table top, allowing it to dangle onto the floor.
Tie a handful of streamers to the back of each chair to add that last pop of colour.
Place a streamer bomb over the dance floor to turn it into a real party when the first dance commences.
Original images and their credits available on Pinterest