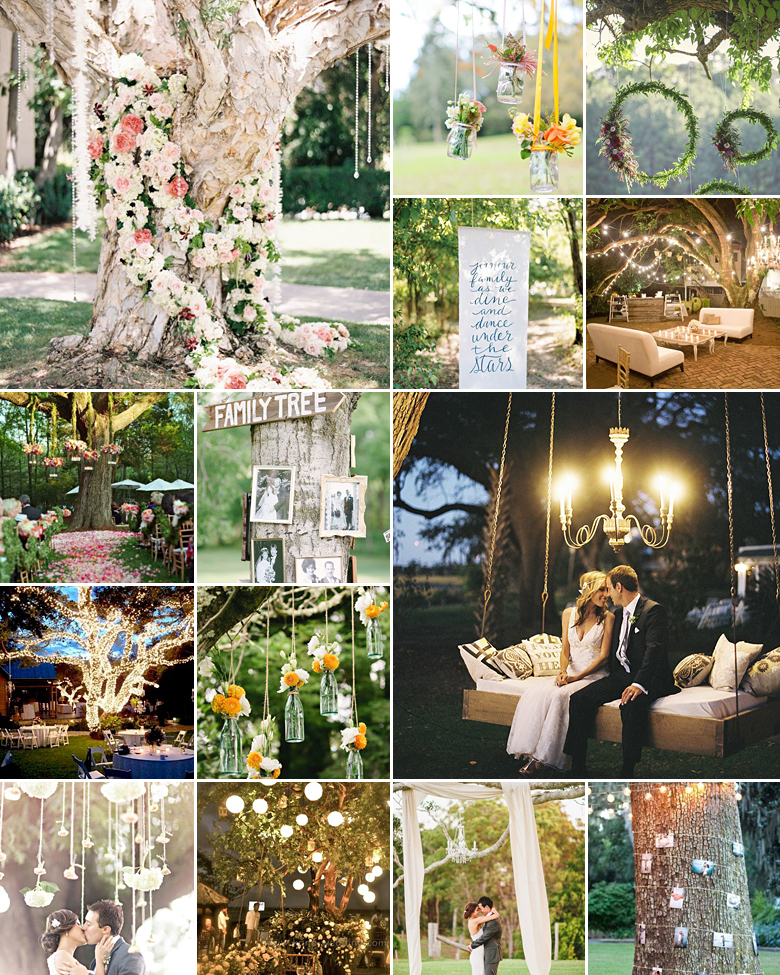 One of the greatest benefits of getting married outside is the free use of Mother Nature's décor elements. Trees are especially enchanting and with a touch of decoration, they can become quite the focal piece – here are some decorative ideas:
Drape the tree in long lengths of soft flowing fabric like chiffon or silk – also ideal as alternative gazebo under which to say your "I dos".
Hang little bird cages and origami birds from the tree branches.
Lights are always enchanting, especially fairy lights and candle lanterns.
Cover the tree trunk and branches in a waterfall of stunning fresh flowers, or hang flower orbs or wreaths from the branches.
Turn the tree into a collage by pinning your favourite couple photos to the trunk.
Alternatively, make a literal family tree with photos of all your family members.
Hang glass bottles from the branches filled with either candles or fresh blossoms.
Opt for a selection of Chinese lanterns in varying shapes and sizes.
Go the surrealistic route by hanging unusual items like chairs, books and colourful cushions from the trees.
Outdoor hanging chandeliers are fast becoming the next big thing, so hang these from the branches.
Create a fun outdoor photo booth by suspending large picture frames from the branches.
For a vintage feel decorate the trees with colourful bunting or strings of pearls.
Decorate the trees with long dangling strings of prettiness – for instance hanging crystals, paper cutouts or flowers.
Original images and their credits available on Pinterest