Vintage Wedding Suitcases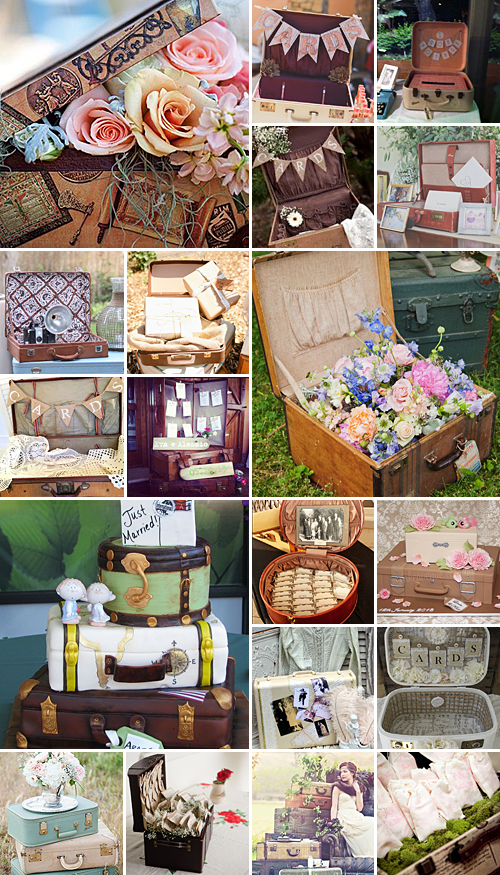 Vintage-themed weddings are not only very popular at the moment, but are also spectacularly beautiful. They are characterised by the styles and features of yesteryear, making your day undeniably charming and memorable. Brand new vintage-style suitcases are available throughout South Africa, particularly at boutique décor stores. However, old school cases and borrowed items from your grandparents may be perfectly suitable for an authentically vintage look and feel.
Vintage suitcases can be piled up around your venue to create the right ambience. However, they can also be put to good use, forming an integral part of your décor. Consider some suggestions:
Use vintage suitcases as receptacles for your wedding programmes, confetti holders and 'thank you' cards.
Get a few cute suitcases and use these as props in your wedding photos and / or photobooth.
Create stylish centrepieces by piling a few small cases in the centre of each table, or by filling just one case with petals, candles or fun photographs to keep your guests talking.
Fill mini vintage suitcases with chocolates (for example) as cute guest favours.
Opt for vintage vases with a difference as you use your suitcases to hold pot plants as part of your floral décor.
Carry a pretty suitcase down the aisle instead of a traditional bunch of flowers.
Pile suitcases to form a 'table' for your wedding cake.
Include a groom's cake fashioned as a vintage suitcase and filled with fun delights.
Open a large suitcase and place it on its side (so that it is standing upright). Then, use the inside as a canvas on which to pin your table seating plan.
Original images and their credits available on Pinterest