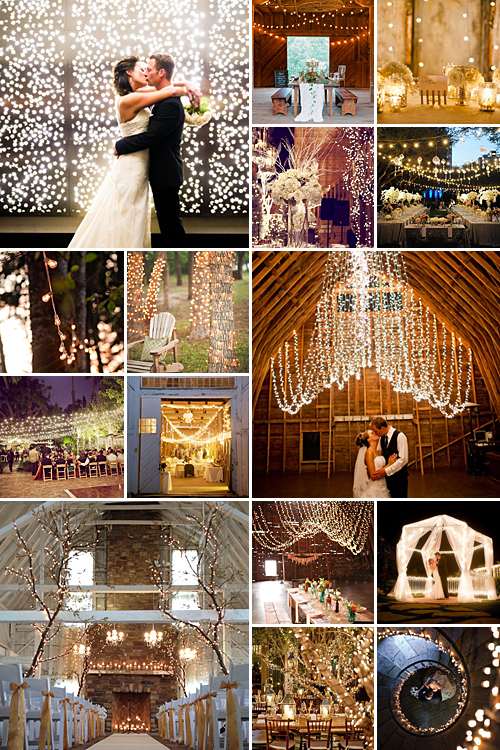 There's something just so undeniably magical about a room illuminated by a million little fairy lights, so it's no surprise that brides are drawn to it like moths to a flame. Lighting, as we so often say, is one of the most important role playing factors when it comes to setting the mood at a wedding and fairy lights are definitely a sparkling chart topper.
This seemingly timeless trend is one that definitely won't fade anytime soon, however as any designer or stylist will tell you, it's best to constantly keep reinventing a trend to keep it fresh. So here are a few ways to push the boundaries of the glittering fairy light:
String fairy lights from rafter to rafter, tree branches tree to tree and porch pillar to pillar to create an overall lighting extravaganza.
Use strings of fairy lights to create a twinkling curtain of prettiness – the ideal way to cordon off a part of the wedding venue, for instance if it's just too big.
Ask your photographer to snap a picture of you from the other side of the curtain of lights, i.e. lights hanging between you and the lens, for a truly enchanting wedding album highlight.
Don't just stick to the normal sized fairy lights – play around with bigger and smaller bulbs as well as strands where the lights vary in denseness.
Fairy lights don't necessarily have to be "draped" – for a more contemporary style wedding, pull them tight to create clean lines.
Bundle your fairy lights into a tall crystal vase for an eye catching and sparkling DIY light.
Twist the fairy lights around tree trunks or existing pillars to light the way.
If you're planning an evening wedding, line the aisle with strands of romantic fairy lights.
Instead of lighting the tables with candles, place a single strand of lights down the middle of a rectangular table and place your centre pieces around it.
Illuminate the outdoor area by putting up a fairy light "fence" around the chill area or, even better, placing them flat on the ground.
*Always remember to have a qualified electrician or lighting expert check the lights to avoid any mishaps or accidents.
For more Wedding and Fairy Light ideas, the original photos above and their credits, make sure to check out our Fairy Lights Pinterest Board!