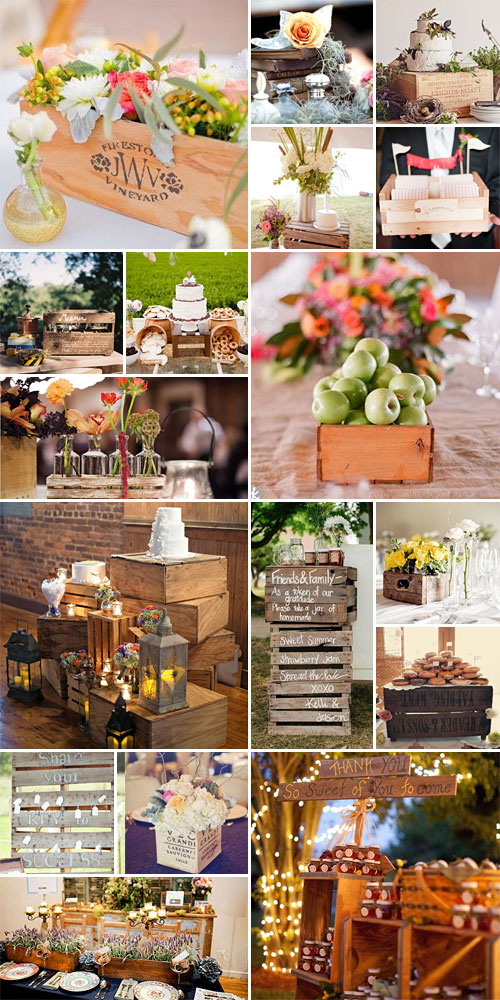 We love wood and we love recycling, so why would we not love wooden crates at a wedding? While there's nothing like the real thing – vintage crates with ink branding on the sides – there's always the (possibly more affordable) option of getting crates made by a local carpenter. What's more, crates are so incredibly practical, not just in a wedding sense but also at home, hence it would be an early and trendy décor addition to your new little home.
Use crates as wedding cake stand or on the various buffet tables to provide height and add dimension to the tables.
Place your crates in the middle of each guest table and arrange your flowers inside to create a striking wood-meets-floral rustic focal piece.
Use stacks of crates to cordon off certain areas, for instance the bar area, seating area or quite simply the excess venue space that you won't be using. Feel free to decorate with fair lights and flowers.
Alternatively, stack the crates on their sides to create little shelves in which to place candle holders, snacks or other décor bits.
If you can get your hands on a large number of sturdy crates, use them as seating. Simply pop a cushion on top for added comfort and a splash of colour.
Suspend the crates from the ceiling or tree branches and place your floral bouquets inside for interesting yet cost-effective hanging arrangements.
Have your waiters walk around carrying wooded cases (instead of trays) filled with cute little bottled welcome drinks. These cute little crates can also work as food-serving trays for bigger items like popcorn boxes and chip pockets.
Use a wooden crate to hold your guest favours, place settings, wedding gifts confetti sachets and what not.
Create a rustic and organic feel by placing crates of apples or grapes in and around the venue – healthy snacking that looks great!
Keep an eye out for miniature wooden crates for your guest favours and fill them with homemade goodies like fudge or cookies.
Light up the venue with crates and crates and crates full of candles.
Original images and their credits available on Pinterest