Wrought Iron Wedding Ideas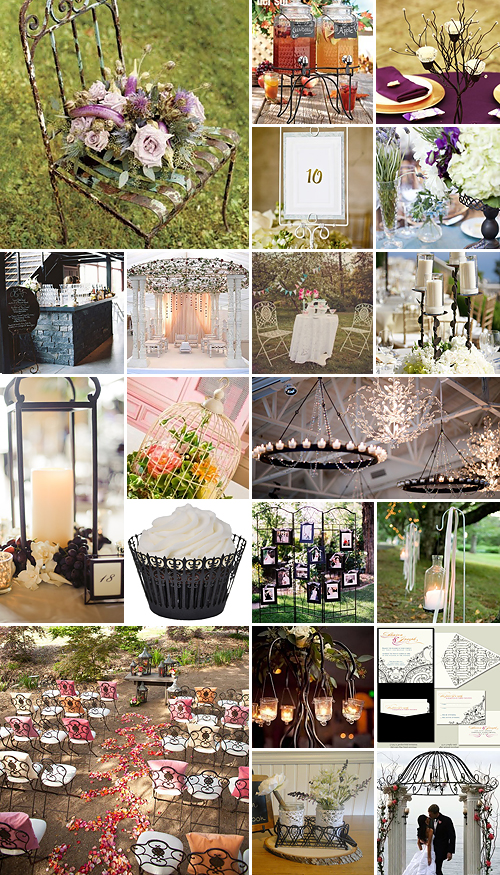 Traditionally iron represents the sixth wedding anniversary, however when it comes to intricately designed wrought iron, it's just too pretty to wait for. This lovely iron design technique offers a range of possibilities that stretch well beyond safety gates and fences – from chandeliers and furniture, to wall decorations and lanterns – all of which are simply perfect for the wedding day.
When decorated with dainty creeper roses or ivy, wrought iron can be turned into quite a whimsical and enchanting décor element, reminiscent of fairytales like Beauty and the Beast – definitely something to bear in mind when choosing and decorating your centre pieces or gazebo. What's more, the detailed cast iron can be tinted, painted or left to rust over time to take on an entirely new look and feel that's more in tune with the style of your wedding day.
But first, let's look at some ideas for incorporating wrought iron into your special day.
Use the different wrought designs as inspiration for your invitations and stationery. In fact, you can even go as far as having the edges of your invitations laser cut according to the given design.
Top your tables with wrought iron bird cages or chandeliers and decorate them with roses, lilies, daisies and other fairytale-type flowers.
Employ an old wrought iron gate as backdrop for your photo session, photo booth or pulpit and decorate it with flowers, rosettes, fabric and ribbon.
Continue the wrought iron theme right down to the little details by using painted or rusted wire to create mini cake decorations, place card holders and stationery embellishments.
Ask your cake designer to incorporate the wrought iron fencing and rose designs into that of your wedding cake – too lovely!
Hang iron hearts from the ceiling or use them to decorate walls and trees.
Shepherd's hooks are steadily climbing their way back up the trend scale, so hook a little flower pot to the bent end of your wrought iron hooks and use them to line the aisle.
For a more contemporary look, choose wrought iron and glass tables and chairs to round off the modern extravaganza.
For more ideas on Wrought Iron Wedding Ideas or to check out the original photos displayed above and their credits, make sure to check out our Wrought Iron Wedding Ideas Pinterest Board!