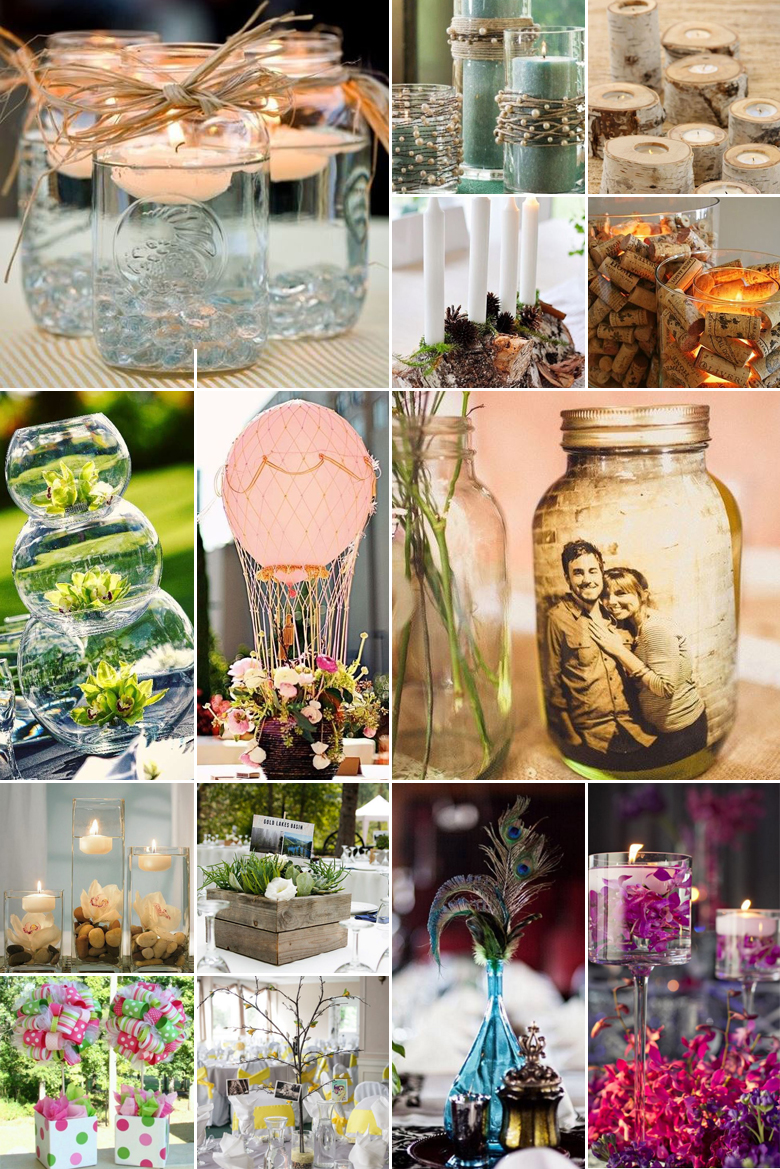 The 21st century has dictated a lot of freedom in fashion and design. There is no better place to express your individuality and taste than at the most special day of your life. Although wedding décor should not be something you may regret at a later stage, there is so much opportunity for creativity and innovation. Here are a few suggestions, many of which have been used effectively to create memorable and sometimes humorous centrepieces, guaranteed to start a conversation:
Feathers – use brightly coloured peacock feathers, elegant white ostrich feathers or African-style Guinea Fowl quills to create a dramatic centrepiece. Depending on the theme of your wedding day, these arrangements can include porcupine quills, fairy lights, painted twigs or glittered sticks amongst the soft feathers.
Trivia – create tasteful cards with a trivia question on one side and the answer on the back. These can be wedding-related questions and there may be more than one question per card. These can then be mounted on a wooden stand or photo stand, or can be set up as a board game on the table, which guests can play while they wait for the bride and groom to return from their photo session. This also breaks the ice for guests that may not know one another. If the questions are not wedding-related (e.g. what is the origin of confetti?), make them relate to you as a couple. For example, if you both love sports, use sporting trivia as a theme. If you are both in the IT industry, ask questions about computer games.
Fruit jars – introduce bright, natural colours by filling old-fashioned jam jars with fruit and finishing them off with a ribbon or custom-made label.
Career-appropriate options – the bride and groom can bring elements of themselves into the centrepiece, particularly if they have the same career or are in the same industry. For example, doctors, nurses or surgeons can use elements from a sterile tray to create a fun and interactive centrepiece. Librarians can opt for a stack of their favourite reads, while photographers can choose a selection of beautiful photos and arrange them in an appealing stand or on a mini easel in the centre of the table.
Felt flowers – making brightly coloured flowers out of felt or paper is fun and so refreshing. They can be economical (e.g. using newspaper) or more expensive (e.g. luxurious printed paper or fabric).
Jewels – arrange some of your favourite vintage pieces (necklaces, brooches and so on) or a collection of crystals on a wire jewellery bodice or something on which they can hang and be admired for their exquisite colours. As they catch the candlelight, they create a spectacle in their shimmering iridescence.
Snacks – rather than taking up space in the centre of your table with ornamental décor, fill it with beautiful sushi displays, fresh fruit or melon and Carpaccio arrangements. These can be savoured during the speeches or while guests wait for the bride and groom to arrive.
Guestbook – a great way to remember your day and everyone that shared in it is to have guests write a personal note in your guest book. Leave a small book (or some individual leaves that can later be put into a book) in the centre of the table with a stylish pen and a note explaining what you would like your guests to do. This way, they do not have to find one book as it is passed from guest to guest and they are not likely to forget.
Original images and their credits available on Pinterest