Crafty Table Numbers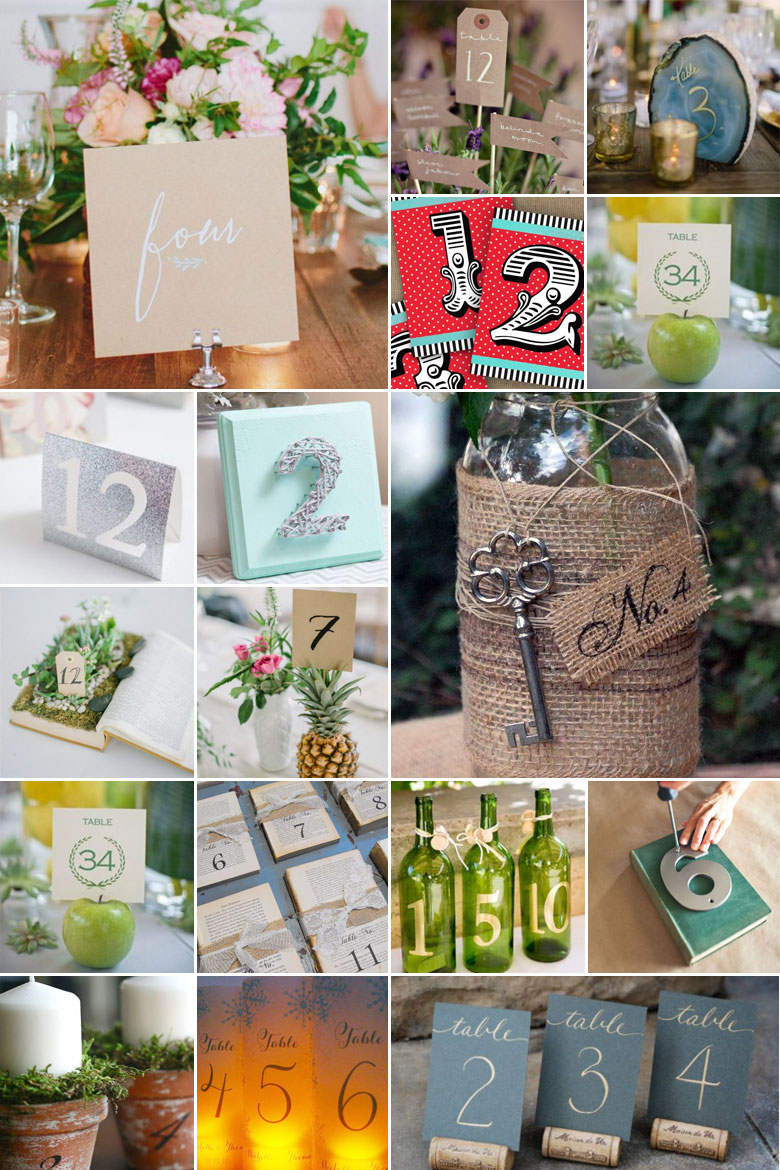 Cunning table numbers can add so much to your décor with very little effort or cost. They are also a part of the décor that is often neglected or simplified. This means that, when novelty and creativity are implemented in the way of table numbers, it will almost certainly be recognised and appreciated, making them very rewarding.
Here are some ideas to get your creative juices flowing:
Ask vendors to create a series of numbers out of wire and beads for a lovely rustic look and feel. For a more elegant, vintage look, do not use beads, but add flowers (such as roses and ivy) to the wire. These numbers should be able to stand on their own.
Mount a playing card onto a wooden backing and display these on the table. Table 1 will be represented by the Ace of Hearts, Table 2 by the 2 of Spades, and so on.
Take individual photographs of you and your future spouse holding a big blackboard with each of the table numbers written on it (i.e. a picture of you with a board saying "1", another of you with a big "2" on the board, and so on). Alternatively, you can take fun photos of you and your fiancé posing in crazy positions and then Photoshop the numbers in later. This must, however, be done by a professional so that they look credible. Frame these pictures or stick them onto card and ensure that they are big and prominent enough to be noticed straight away.
If you would prefer to stay out of these pictures, get your dog to pose alongside giant foam or cardboard numbers for each shot. In this way, you can make your best friend a very special part of your day.
Print stylised numbers onto large stickers (your local printer should be able to do this) and stick these over the labels of the wine bottles, champagne bottle, a small barrel or jam jar on the table.
Instead of numbering your tables, give them the name of a favourite destination, dessert, era, band, etc... These table numbers can be decorated to reflect the particular item it represents. For instance, an African themed wedding may include the Leopard Table, Zebra Table, and so on, each printed on animal-print paper or card.
For a really cost-effective option, place a small blackboard in a frame or on a mini easel in the centre of the table and write the table number on it in chalk.
Have custom made ceramic pots produced with the numbers carved or painted onto them. These can act as the table number guide as well as the centerpiece when it holds a beautiful flowering plant.
Frame baby pictures of you and your new spouse or of some of your family members and place these on the table. The table number can either be attached to the frame or can be printed onto the picture (using a design or photo editing programme). These are sure to keep your guests amused.
Visit a party store and buy the candles used to represent one's age on a birthday cake. Perch these in a cupcake or a spray-painted foam base for a fun, colourful look.
If you are into scrapbooking, create a fabulous range of number pages that are uniquely yours. The embellishments can include little notes written to one another during the course of your relationship (censor these!), petals from dried flowers received, sweet couple photographs and cute names you call one another. The number should be easily visible amongst the surrounding decorations.
If one or both of you are in the writing field or have a huge passion for reading, buy antique or used books with plain-coloured hard covers. Purchase ready-made numbers from a craft store and stick these onto the cover of the book, which should then stand on the table.
Original images and their credits available on Pinterest