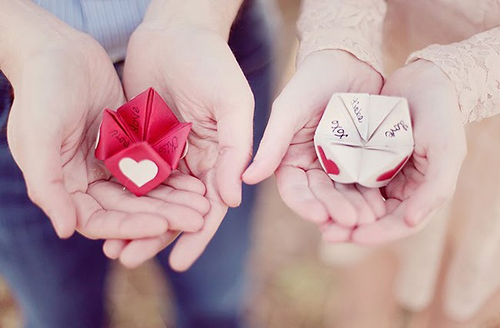 Cootie catchers, fortune tellers, chatterboxes, salt cellars, whirlybirds – whatever you used to call them back in junior school, these origami creatures never fail to bring back good old memories of break times, handwritten notes, hop scotch and best friends forever. So you can just imagine how these little paper joys will have your guests reminiscing and chatting away on your wedding day. There are ample original and thought-provoking ways to incorporate the cootie catcher into the theme of your special day – here are a couple of ideas to get your brain buzzing:
Menus: If you're planning a buffet, cootie catchers (or let's call them fortune tellers for the time being) make for brilliantly fun menus. Make a fortune teller for every course and place one on each table as your menus – guests are bound to have a laugh or two while trying to figure out what fate wants them to put on their plate.
Nametags: With four corners at your disposal, there's more than enough space in which to fit the guest's name, table number, wedding date and your and your groom's names. Once guests have had their fun playing with their cootie catchers, they can take them home as…
…Favours! Cootie Catchers make memorable gifts that guests can easily slap in their scrapbooks to serve as a little reminder of the antics of your wedding day – from special quotes and messages to questions and dares. As a bonus, the paper toys are quick and super easy to make – use this step-by-step guide: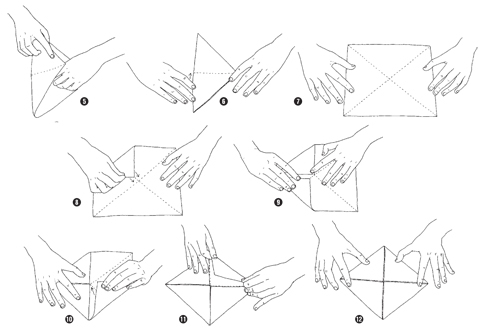 Credit: Eco Vintage Weddings
For a bit of extra guidance, download the template here http://ruffledblog.com/freebie-fridays-cootie-catcher-menu-template/
Ice breakers: Not only is the cootie catcher quite a conversation piece on its own, this little paper novelty can be an excellent tool in helping guests to get to know each other around the table. Fill it with questions about you and your groom, facts or questions about the other guests, or playful dares and challenges that will not only break the ice but tickle the funny bone too. Here are a couple of example questions and dares to set your mind on the right track: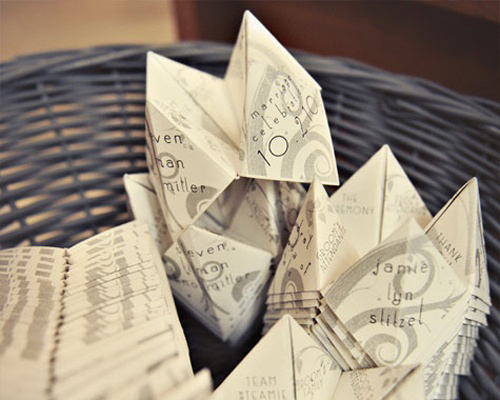 Credit: The Knot
Questions about the bridal couple
What is the couple's favourite restaurant?
Where was the groom born?
How many roses are there in the bride's bouquet?
What is the couple's favourite game?
Who is the Maid of Honour/Best Man?
Where did the groom pop the question?
What is the bride/groom's favourite sport?
Where will they be spending their honeymoon?
How much taller is the groom than the bride?
What do they collect?
What is their special song?
What is their dog's name?
Where did the couple go on their first date?
How many children do they want to have?
What is the bride's "something blue"?
Where did they have their first kiss?
What are their pet names for each other?
How many brothers and sisters do they have in total?
What is the bride's speciality dish?
Ice breaking dares
Ask a stranger to dance.
Shake a champagne bottle and pop the cork.
Steal another table's forks.
Make a toast to the couple.
Do the Macarena!
Down a glass of champagne.
Ask a bridesmaid/best man's phone number.
Juggle four bread rolls.
Request a song and ask someone to dance.
Balance a spoon on your nose.
Get up on the stage and sing a song.
Introduce yourself to the mother of the bride.
Steal a rose off the wedding cake.
Do "the robot" on the dance floor.
Initiate a conga line.
Clink your glass for the couple to kiss.
Grab a chilli at the buffet and eat it.
Help decorate the couple's getaway car.
Share a slice of cake with a stranger.
Write a poem about the couple in the guest book.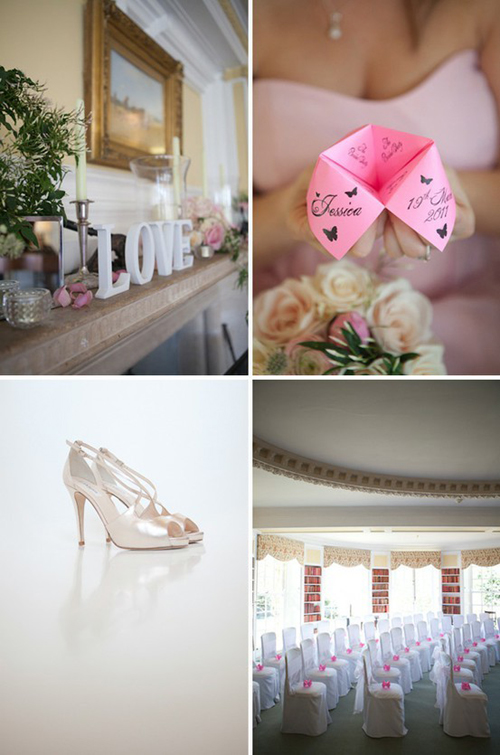 Credit: Rock my Wedding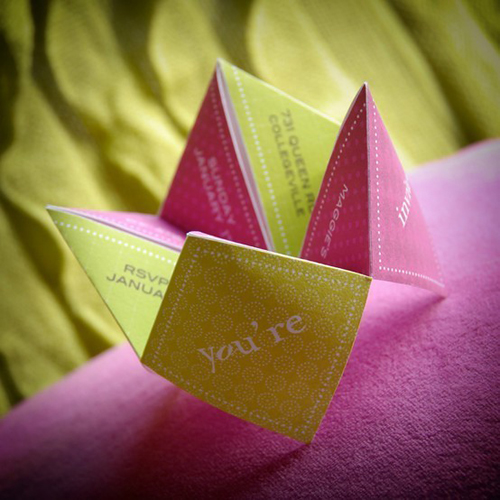 Cootie catchers are incredibly versatile and heaps of fun, so let your imagination run wild and see in how many ways you can reinvent this old school paper fascinations to fit the theme of your big day. (Don't forget to send us a picture!)
Main Photo Credit: Your Bliss Blog