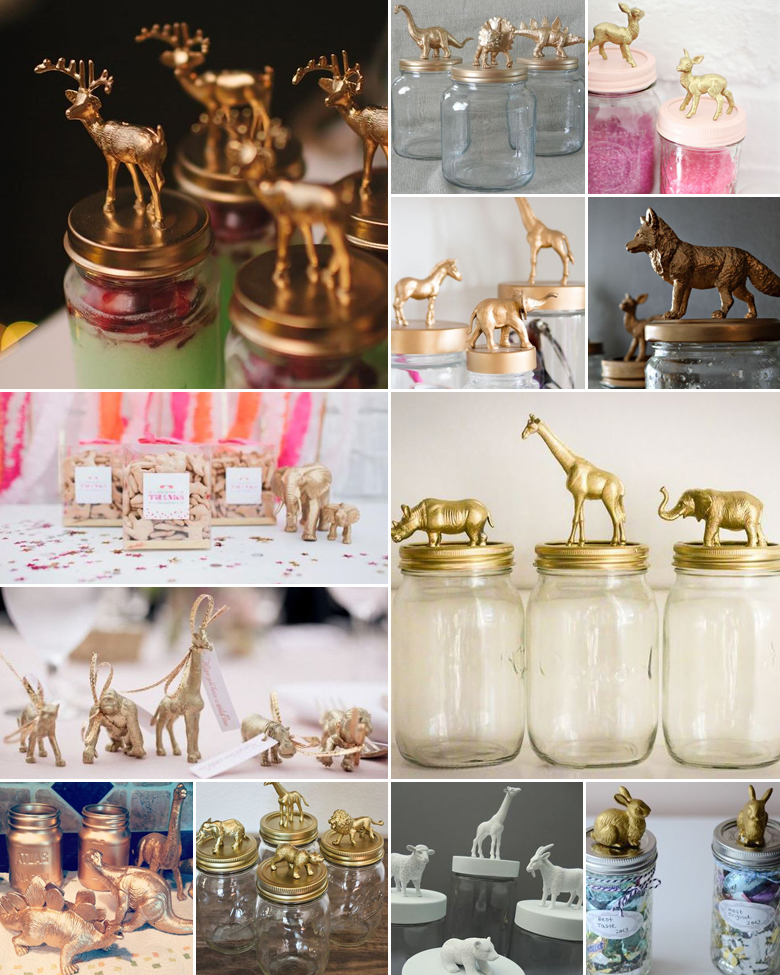 When we can use "gold" and "DIY" in the same sentence, we're in our element! For this little project, we'll be creating our own gold animal jars – a simple little something-something that's right on trend this season. Here goes:
You will need:
Plastic animals (available from pretty much any toy store)
Recycled glass jar with matching lid
A wine cork
Gold spray paint (available from most hardware stores)
Superglue
Method:
Start off by stripping the label off your salvaged glass jar. Once you've got most of the paper off, an easy way to get rid of the residual glue is to spray bug spray all over it. Leave for a minute or two and rinse in warm soapy water – all clear!
Next also wash the jar lid and plastic animals in warm soapy water to ensure that it's dust-free. Dry them well and leave them to air-dry for an extra couple of minutes – you don't want the moisture to affect the paint.
Spread newspaper over the surface that you'll be working on, and make sure you work in a well-ventilated space.
Place your animal on the paper and balance the jar lid on the cork on the newspaper – this will allow you to spray the entire rim of the lid and prevent it lid from sticking to the paper.
Apply a thin coat of spray paint. Leave to dry for two hours before applying a second thin layer of paint. If necessary, apply a third layer once it's dry to cover any missed spots.
Finally, glue your gold animal onto your gold lid and there you have it! Fill the jar with sweeties, bath salts or any favour of your choice.
Original images and their credits available on Pinterest