DIY Birdseed Heart Guest Favour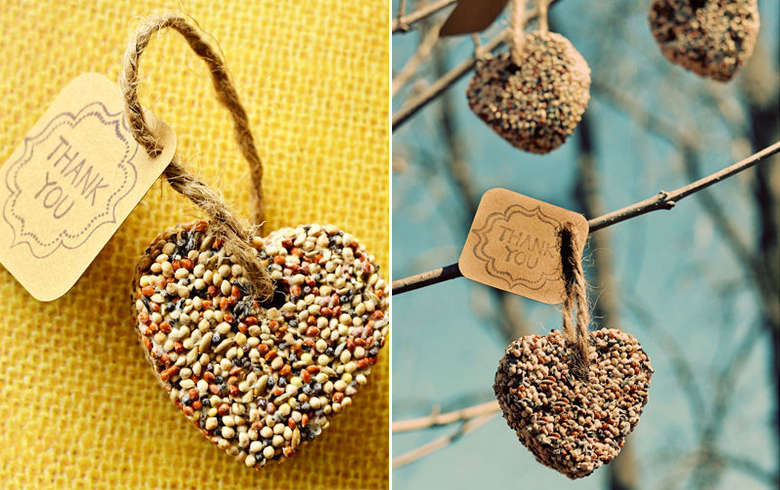 These lovely guest favours or outdoor wedding decorations are not only budget friendly, but also eco-friendly! This recipe makes about 21 x 5cm hearts, and the important thing to remember is not to make it more than a week before the wedding or else your pretty hearts might attract mold.
You'll need:
¾ cup of cake flour
½ cup water
2½ tsp of unflavored gelatin
3 tbsp corn syrup
4 cups birdseed
Non-stick spray
In terms of "equipment", you'll need:
A large mixing bowl
A 5cm heart shaped cookie cutter
A chopstick or bamboo skewer
Parchment paper
A baking tray
String or raffia
Scissors
Cards with your thank you note printed on it
A paper punch
Now to get started:
Mix flour the water, gelatin and corn syrup together, then add the birdseed and stir well until combined.
Coat the inside of your cookie cutter with the non-stick cooking spray.
Line the baking tray with parchment paper and place the cookie cutter on top.
Spoon the birdseed mixture into cookie cutter, and press the seeds into place with greased fingers. Remember: Pressing it down firmly means less of the seeds will fall off once it's dry, so put some pressure on it.
Use your chopstick or bamboo skewer to "punch " a hole near the top of the heart, and gently pull the stick out again. If the hole "collapses", it means your mixture is too runny – this can be remedied by adding more birdseeds, flour and a sprinkle of gelatin.
Carefully slide the cookie cutter off the birdseed heart.
Repeat steps 3 to 6 until all the mixture is used up. Be sure to spray the cookie cutter after every six hearts so that the mixture won't stick
Allow the tray of hearts to dry on the parchment paper for 6 to 8 hours – or better yet, overnight.
Cut a length of string or raffia for each heart – about 25 to 30cm should do the trick so that it's long enough to hang on a small branch.
Punch a hole in each thank you tag and thread the string through the hole in the heart and tag. Tie a knot and voila!
Adapted from Intimate Weddings